For a town of just over 1000 people, Jandowae stumps up one of the country's finest timber events, Jandowae Timbertown Festival.
While most of the year, this charming agricultural town is as quiet as a mouse, every two years, it draws a crowd with the lure of the region's only timber-focussed event.
Ready to branch out and Experience Western Downs? Follow the chorus of chainsaws to Jandowae Timbertown Festival with this guide.
What is Jandowae Timbertown Festival?
Jandowae Timbertown Festival is a four-day event that celebrates Jandowae's timber history and community.

Timber sawmilling has long been one of Jandowae's primary industries and in the early 2000s, an initiative was raised by locals to celebrate this rich history with an event in its honour.
Held every two years, the event embodies a different theme, like this years' – 'The many branches that make one'.
Across the festival, the town is expected to more than double its size as the local community and travellers come together to immerse themselves in the wide range of attractions, competitions, entertainment, and activities on the program.
What can you see and do during the festival?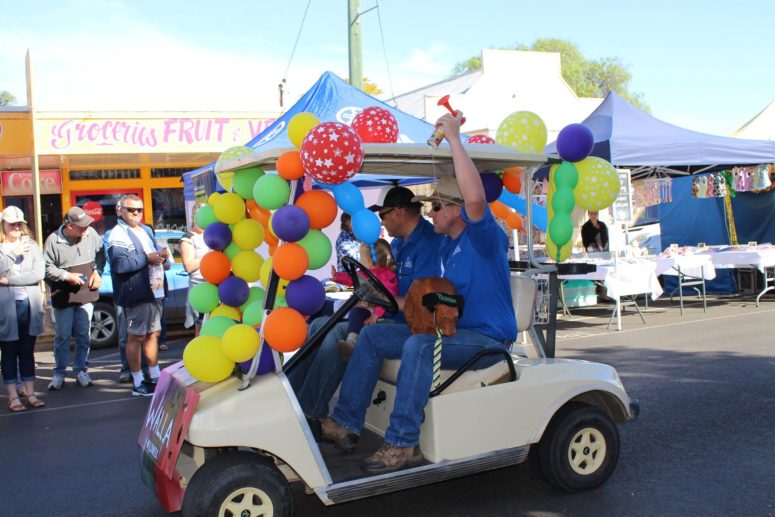 The four-day event will kick off with the 'Rosevale Bulls and Kingside Crops Farm Tour' on Thursday 9 June, where you can learn about Jandowae's agriculture industry with visits to the Rosevale Santa Gertudis Stud and the 'Kingside' broadacre cropping farm.
Friday 10 June takes a historic turn with the 'Where's Warra Historic Tour', where you can settle in for a half-day tour to hear old tales from locals and learn about the history of the region.

If you've got time in your schedule, spend the remainder of your Friday on the green at Social Bowls before testing your pop culture knowledge at the 'Hollywood Trivia' opening event at the Jandowae Memorial Hall.

Make sure to arrive bright-eyed, and bushy-tailed on the main festival day, Saturday 11 June, to explore the market stalls selling woodworking, craft, candle, Tupperware, and wine – open from 8am.
The Main Parade kicks off on Saturday at 10:30am, where you can watch a spectacle of floats created by Jandowae's local community and witness the story of the townships 'then to now'.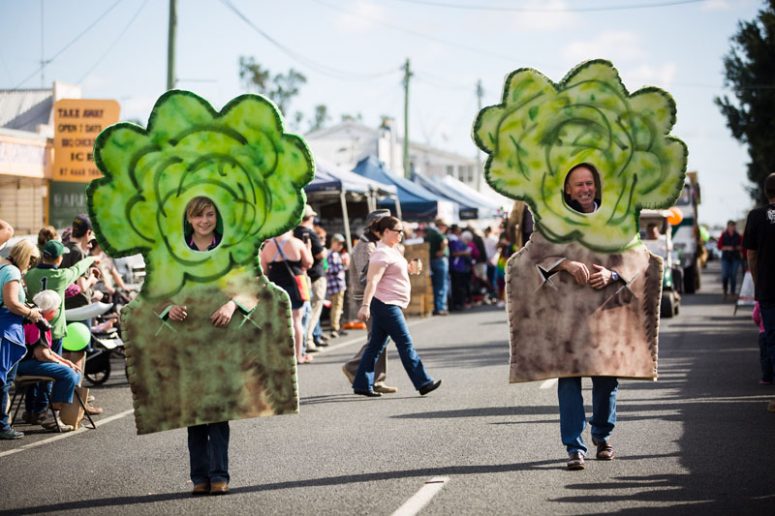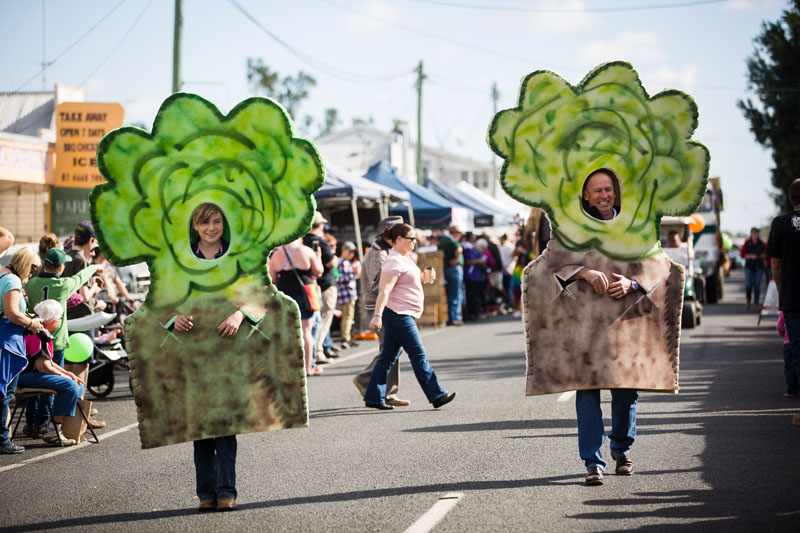 If you're stumped on what to see next, explore the chainsaw sculpting, blacksmith displays, Peterson sawmill displays, barrel races and a Guess the Weight of the Logs and tree decoration competition throughout the day.

Looking for something to keep the kiddies busy?  Keep them entertained for hours with a 28m long giant inflatables obstacle course and slides, a merry-go-round and entertainer workshops and performances by Helly Hoops. Don't forget the Aerial lolly drop as sweet treats rain from the sky from a plane (sugar rush incoming!)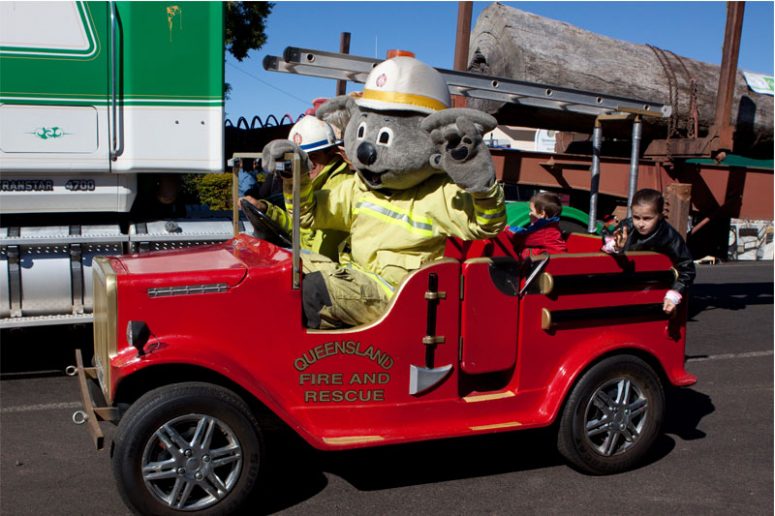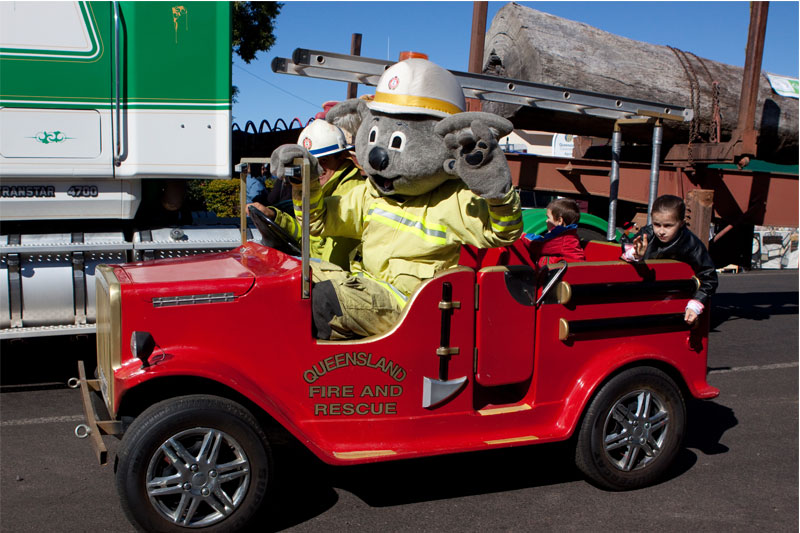 Tummy rumbling and have your teeth on the chain? Munch down on a classic wood-fired pizza, a succulent steak burger, hot spuds, and BBQ to treat your tastebuds.
As the sun starts to go down, sharpen your sights on the Wambo Windfarm Timber Events, including the Log of War and Morrissey & Co Yabbie Races, along with chainsaw racing and the Timberman Challenge.
Staying late? Get ready to tap your foot to a live performance by Route 33 and set your gaze on the exploding fireworks, while enjoying a coldie from the bar or local pubs.
If you want to keep the good times rolling, join the festivities on Sunday 12 June for a range of community events around Jandowae, including golf, barrel racing, live music, and a combined church service.
Where is the event and how can you get there?
Mark Jandowae Showgrounds, on the corner of Warra and Myall Street, into your GPS – the event has a new location this year.

If driving, Jandowae is situated 259 km north-west of Brisbane, 55.8 km north-west from Chinchilla and 48.5 km north-west of Dalby. 
How much do tickets cost and where can you buy them?
Tickets come in a few formats to suit how long you intend on attending this years' Jandowae Timbertown Festival.

If you want to take the tours available on Thursday 9 June and Friday 10 June, you can buy these tickets separately via Eventbrite.

Tickets for Jandowae Timbertown Festival Day on Saturday 11 June are $10 for adults, and entry is free for those under 18.

While tickets are available at the gate, it's strongly encouraged to purchase your tickets ahead of time.
To book your tickets, click here.
Where can you stay in Jandowae and surrounds?
If you're looking to stay close to the action, bookings are essential.

Keen to pitch up the tent and crack open a packet of marshmallows? Powered and unpowered sites are available for camping and caravanning at the Jandowae Showgrounds – however, sites are known to sell out.

There are only a handful of accommodation options left in Jandowae for the event – like The Exchange Hotel, Jandowae Accommodation Park, and Jandowae Hotel.

Neighbouring towns of Chinchilla and Dalby also happily offer accommodation overflow for the event.

As they are more than a chop and a hop away, you can simply jump on the free shuttle bus running from Dalby and Chinchilla, operating both day and night.
If you're grabbing the shuttle, be sure to secure your spot for Dalby and Chinchilla via  Eventbrite.
Things to do in see in Jandowae
If you have time to spare, why not check out what else Jandowae has to offer?

To stay on the timber theme, have a gander at the Timbertown tree – a monument that promotes the festival all year round on the main street.

Want to discover more of the history of the township? Check out Athlone Cottage Museum, the Dingo Sculpture, or the Dingo Barrier Fence – the longest fence in the world. 

If you want to revel in nature instead, head on down to the local Jandowae Dam to cast a line, birdwatch or simply relax.