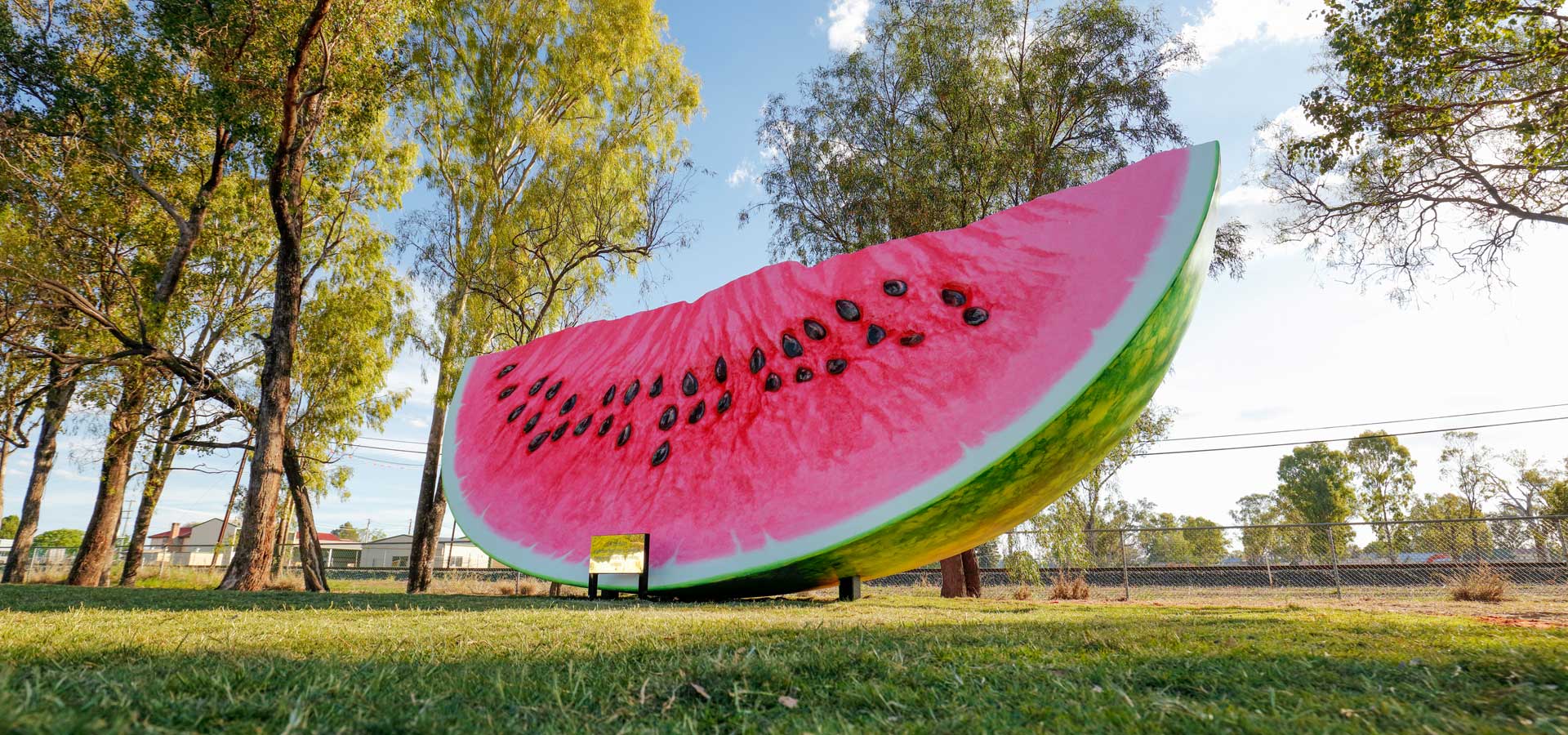 Chinchilla
Known for its quirky and fun-filled biennial Melon Festival, Chinchilla is a vibrant country town in the heart of the Western Downs. But don't be fooled by this small town's size, it belies its population with the quantity of produce grown in the region. In fact, Chinchilla produces 25% of Australia's watermelons. Try your luck fossicking for petrified wood or wander the shady tree-lined main street. Visit nearby country townships of Brigalow, named after the local brigalow trees and Kogan with its public artworks and sculptures that have added vital history to the local area.
Chinchilla Melon Festival is one of the most unique and vibrant experiences you can have in this part of the world! Every two years thousands of visitors travel to the Western Downs town for sweet and colourful events and spectacles.
Experience Chinchilla
Check out the melon capital of Australia – start with a selfie with The Big Melon, continue on with a stroll down the Camphor Laurel tree-lined main street and finish at the Chinchilla Weir – a freshwater playground.
History & Heritage
History & Heritage
Discover an old world at the Chinchilla Historical Museum and experience the town just as it was in its pioneering days. Explore the old dancing hall (Goombi Hall), an ANZAC memorial, exhibition school classrooms, workshops and homesteads. Try your luck fossicking for the rare 'Chinchilla Red' petrified wood. The town has one of Australia's best and most abundant stocks of the fossilised ancient wood.
Learn More

about History & Heritage
Self Drives
Self Drives
You don't have to head out of town to get your nature fix in Chinchilla. Take a stroll along Charley's Creek Track, winding your way across town. Here you can stroll through bushland and alongside the creek, passing the back of Centennial Park where you'll find picnic areas framing grass fields.
Learn More

about Self Drives
For the Kids
For the Kids
Experience Western Downs and enjoy family time. We've got you covered from a selfie at The Big Melon to a festival of Big Skies and all things in between. Try your hand at fossicking or pitch a tent, drop a line and roast a marshmallow.
Learn More

about For the Kids
Bookable Tours
Bookable Tours
Find and book sightseeing tours, attractions, things to do and fun activities across the Western Downs. A bookable tour offers a unique way to meet a local, make fascinating friends with fellow travellers all whilst taking the pressure of you making the plans. Let us inspire you to explore Western Downs further.
Learn More

about Bookable Tours
Arts & Culture
Arts & Culture
Visit the Lapunyah Art Gallery and explore contemporary and traditional artwork across their two gallery spaces. Entirely managed by volunteers, the art gallery displays up to 20 exhibitions every year with a strong focus on exhibiting local artists. Then, observe the shelves-upon-shelves of petrified wood at the Chinchilla Historical Museum and purchase smaller pieces at the Chinchilla Visitor Information Centre.
Learn More

about Arts & Culture
Nature
Nature
Work up an appetite and wander the 4.2 hectares of Australia's Park of the Year for 2020 – the Chinchilla Botanic Parkland that's aptly themed around Chinchilla's watermelon fame. Then meander along Charley's Creek Walk, enjoy water sports at the Chinchilla Weir and choose your picnic location: double back to sit by the peaceful weir, lounge in the museum grounds or be surrounded by nature in the Botanic Parkland
Learn More

about Nature
Brigalow
The small settlement of Brigalow lies 20km east of Chinchilla on the Warrego Highway.
A sentry of grain silos signals the town, which was named for the brigalow tree that grows in the area's fertile black soil.

HIGHLIGHTS:
Tuck into an all day breakfast or famous Brigalow Burger from the Brigalow General Store.
In summer, buy just-picked fresh melons and pumpkins at our roadside farm gate.
Wander the peaceful Brigalow Lutheran Cemetery, where many of our pioneering German ancestors lie.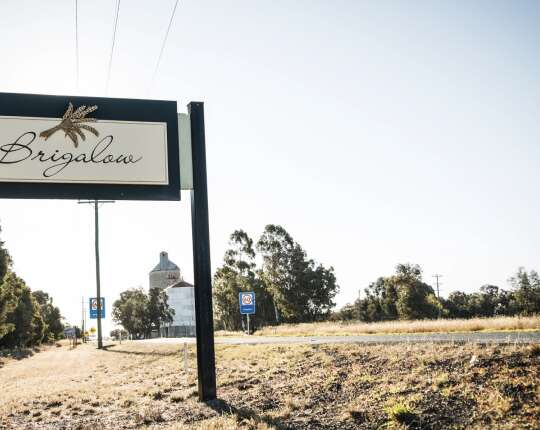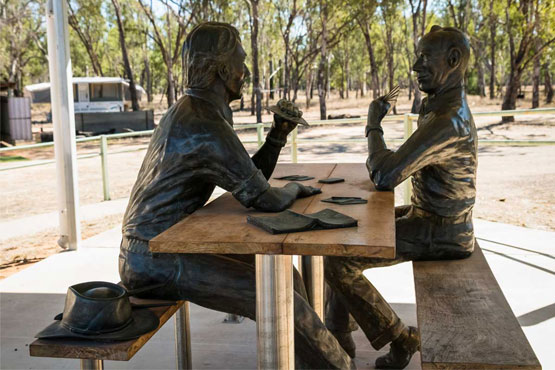 Kogan
With a colourful history as an old droving centre and home to famous Australian artist Hugh Sawrey, Kogan is now dominated by the Kogan Creek Power Station, a 750 megawatt coal-fired power station.
HIGHLIGHTS:
Enjoy the public artworks and medal sculptures made by local artists in the gardens of the Q150 Hugh Sawrey Walkway.
Visit the power station's viewing platform midway between Brigalow and Kogan. It's a spectacular sight, particularly at night!
Camping & Caravaning
Camping & Caravaning
Spend time in nature as you camp or caravan. Spend your days, strolling the town's walking trails and soak in the atmosphere, go bird spotting or drop a line to reel in the catch of the day.
Learn More

about Camping & Caravaning
Farm Stays & Retreat
Farm Stays & Retreat
The Western Downs offers a variety of welcoming boutique & rural retreats that provide an authentic experience of life on the land.
Learn More

about Farm Stays & Retreat
Hotels & Motels
Hotels & Motels
The Western Downs has no shortage of room nights across its hotels and motels if camping isn't your style. From boutique accommodation to villas, you'll find somewhere to rest your weary bones after a day of exploring.
Learn More

about Hotels & Motels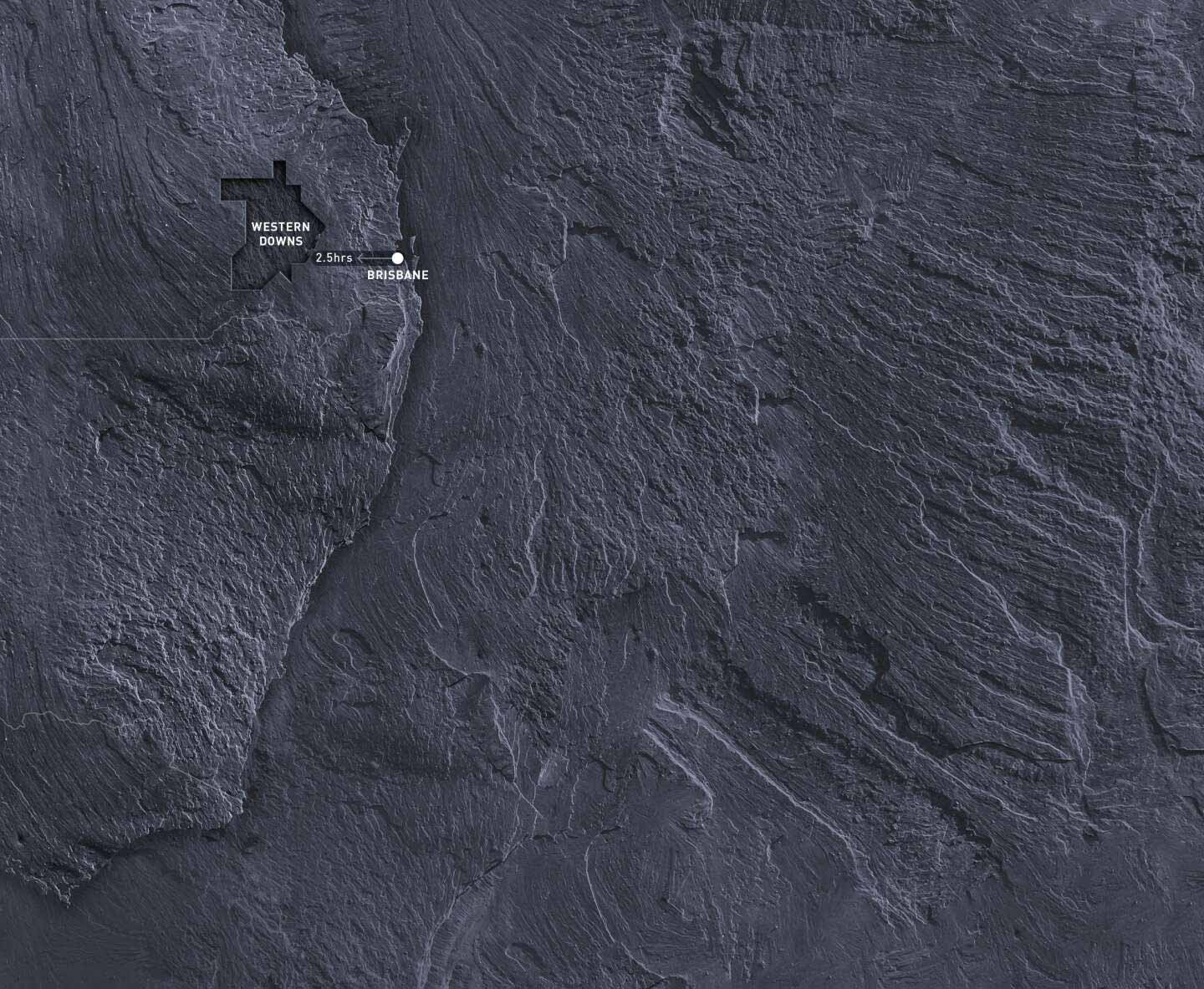 Subscribe to our newsletter