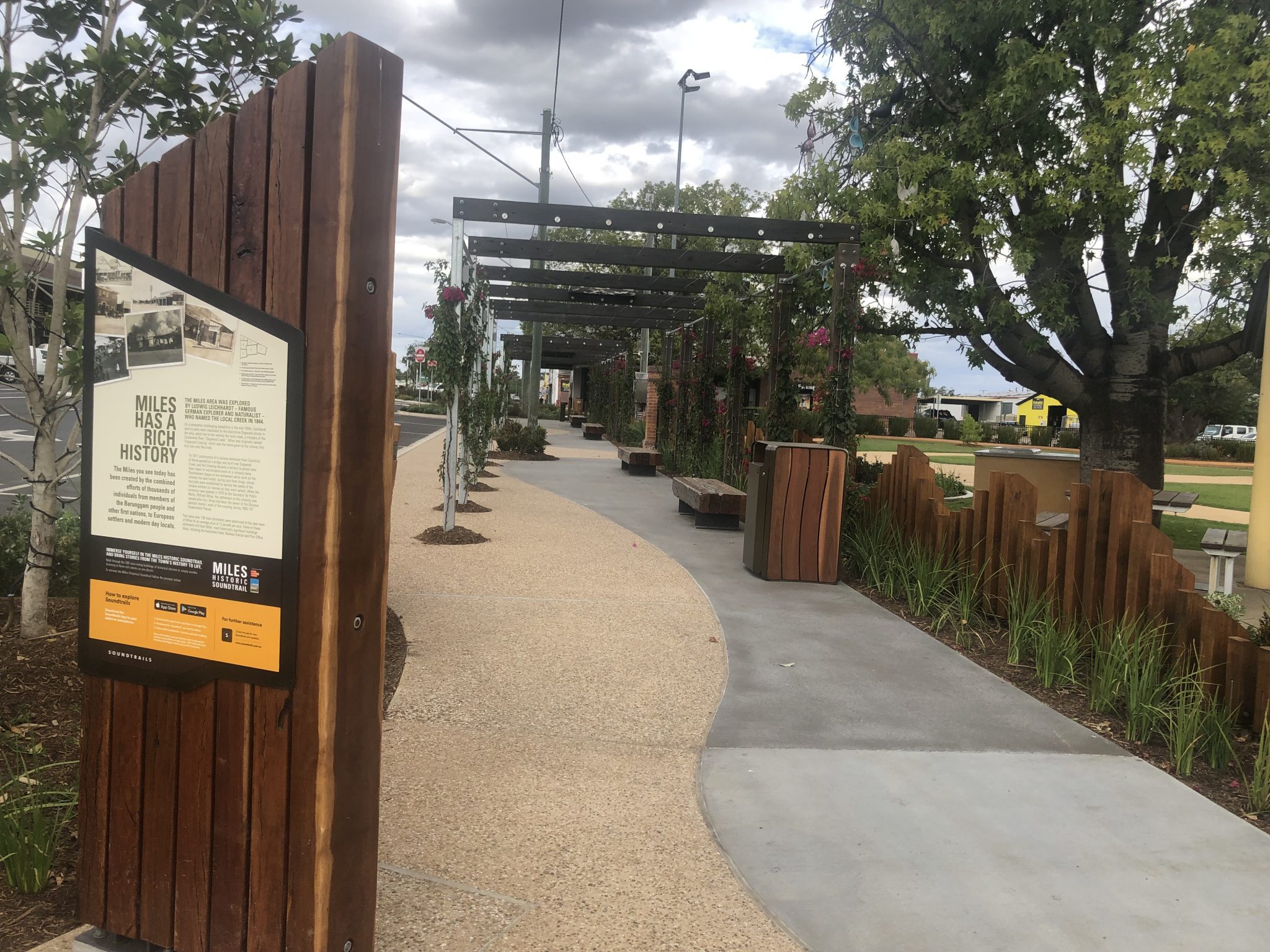 Miles
Miles sits at the crossroads of the Warrego and Leichhardt Highways.
Discover ANZAC Park, this is the starting point for Miles Soundtrail.
An intimate portrait of this town and what it means to belong.
Home to Miles Historical Village Museum, a vibrant arts community and Back to the Bush Festival which is held in September every two years.
The nearby country villages of Drillham, Dulacca and Condamine (along with its famed bell) are easily accessible and add to the experience of Miles and its surrounds.
Experience Miles
Recognised as one of Australia's best Historical Villages, experience early history at the Miles Historical Village Museum with over 30 authentic and original buildings from the 19th and 20th centuries. Catch an exhibition at the renowned art gallery located in Dogwood Crossing, and while you're there take a stroll along the Dogwood Creek Walking Track.
History & Heritage
History & Heritage
Step back in time to a century ago and enter an old-fashioned town centre at the Miles Historical Village Museum. Complete with a school, church, bakery, chemist (to name a few), grab a self-guided map of the village and explore the 34 museum buildings. If you can't get enough of this town's history, head to Miles' cultural hub, Dogwood Crossing. The multipurpose building encompasses a library, art gallery, IT centre and conference rooms hosting public programs and events for an added history and heritage fix.
Learn More

about History & Heritage
Self Drives
Self Drives
Discover history in ANZAC Park. Start off with a picnic in the park grounds, then take the time to pay your respects at the Remembrance Wall before visiting the rare German artillery field gun. Make this your starting point for the Miles Soundtrail. this is a birds eye look at this town and what it means to belong. Extend your adventure through the Western Downs with a short drive to neighbouring Dulacca, Drillham or Condamine. Head south to Condamine to spot the big Condamine Bell, trek west through Drillham and onto Dulacca for sundowners at the 'Pink Pub'.
Learn More

about Self Drives
For the Kids
For the Kids
Experience Western Downs and enjoy family time. We've got you covered from a selfie at The Big Melon to a festival of Big Skies and all things in between. Try your hand at fossicking or pitch a tent, drop a line and roast a marshmallow.
Learn More

about For the Kids
Bookable Tours
Bookable Tours
Find and book sightseeing tours, attractions, things to do and fun activities across the Western Downs. A bookable tour offers a unique way to meet a local, make fascinating friends with fellow travellers all whilst taking the pressure of you making the plans. Let us inspire you to explore Western Downs further.
Learn More

about Bookable Tours
Arts & Culture
Arts & Culture
Celebrate country life with a long weekend at the Miles Back to the Bush Festival. Every two years the festival takes over the town to showcase the best of rural living, with a street parade, markets, bush poetry and performances, and vintage car displays. Take part in the action with tractor pulling competitions, bush obstacle courses, men's night and ladies' high tea.
Learn More

about Arts & Culture
Nature
Nature
If you fancy yourself a nature lover, wander amongst the wildflowers in Miles. Known for its spring landscapes blanketed in colourful wildflowers, experience the Western Downs' floral show for yourself with a self-drive tour of the local hotspots (in season). Pick up a Wildflower Tour Map from the Information Centre and get your camera ready to snap some close ups of Grevillea and Boronia. Pay a special visit to Chinaman's Lagoon, where people come from far and wide to see its Monet's garden-esque pink and purple water lilies.
Learn More

about Nature
Drillham
Twenty kilometres west of Miles and once a thriving settlement, Drillham's railway weir on the creek provided water for steam locomotives. Reminders of these times can still be seen by the creek and roadside.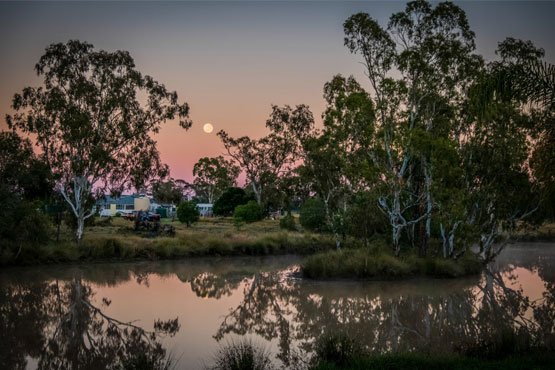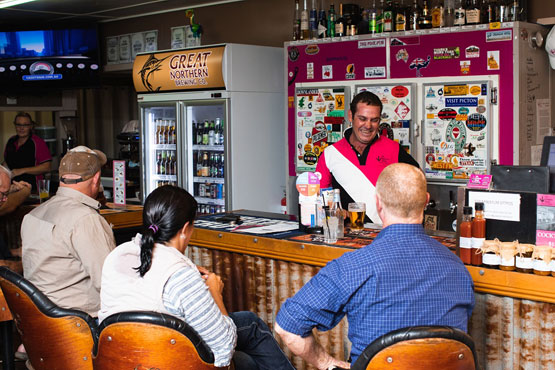 Dulacca
A further 22km west along the Warrego Highway, Dulacca was established in 1879 with the coming of the railway.
HIGHLIGHTS:

Discover the town's history and wartime contribution at the Roy Henderson Park.

Enjoy a cold drink at the Pink Pub on the Hill, known as the 'Pink Pub on the Hill',dating from 1908.
Condamine
Located 33km south of Miles on the banks of the meandering Condamine River, Condamine is home to the famous Condamine or 'Bullfrog' Bell, created by a local blacksmith.

HIGHLIGHTS:
Don't miss a large replica of the Condamine Bell, inscribed with the history of the township in the Condamine Bell Park.
Savour a great pub meal at the timber-clad Condamine Hotel.
Ask the locals where the best fishing spots are along the Condamine River and try your luck.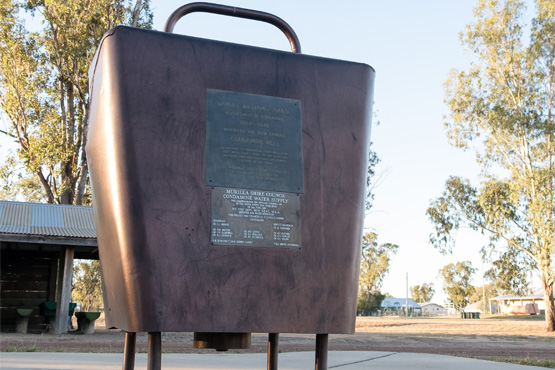 Camping & Caravaning
Camping & Caravaning
Spend time in nature as you camp or caravan. Spend your days, strolling the town's walking trails and soak in the atmosphere, go bird spotting or drop a line to reel in the catch of the day.
Learn More

about Camping & Caravaning
Farm Stays & Retreat
Farm Stays & Retreat
The Western Downs offers a variety of welcoming boutique & rural retreats that provide an authentic experience of life on the land.
Learn More

about Farm Stays & Retreat
Hotels & Motels
Hotels & Motels
The Western Downs has no shortage of room nights across its hotels and motels if camping isn't your style. From boutique accommodation to villas, you'll find somewhere to rest your weary bones after a day of exploring.
Learn More

about Hotels & Motels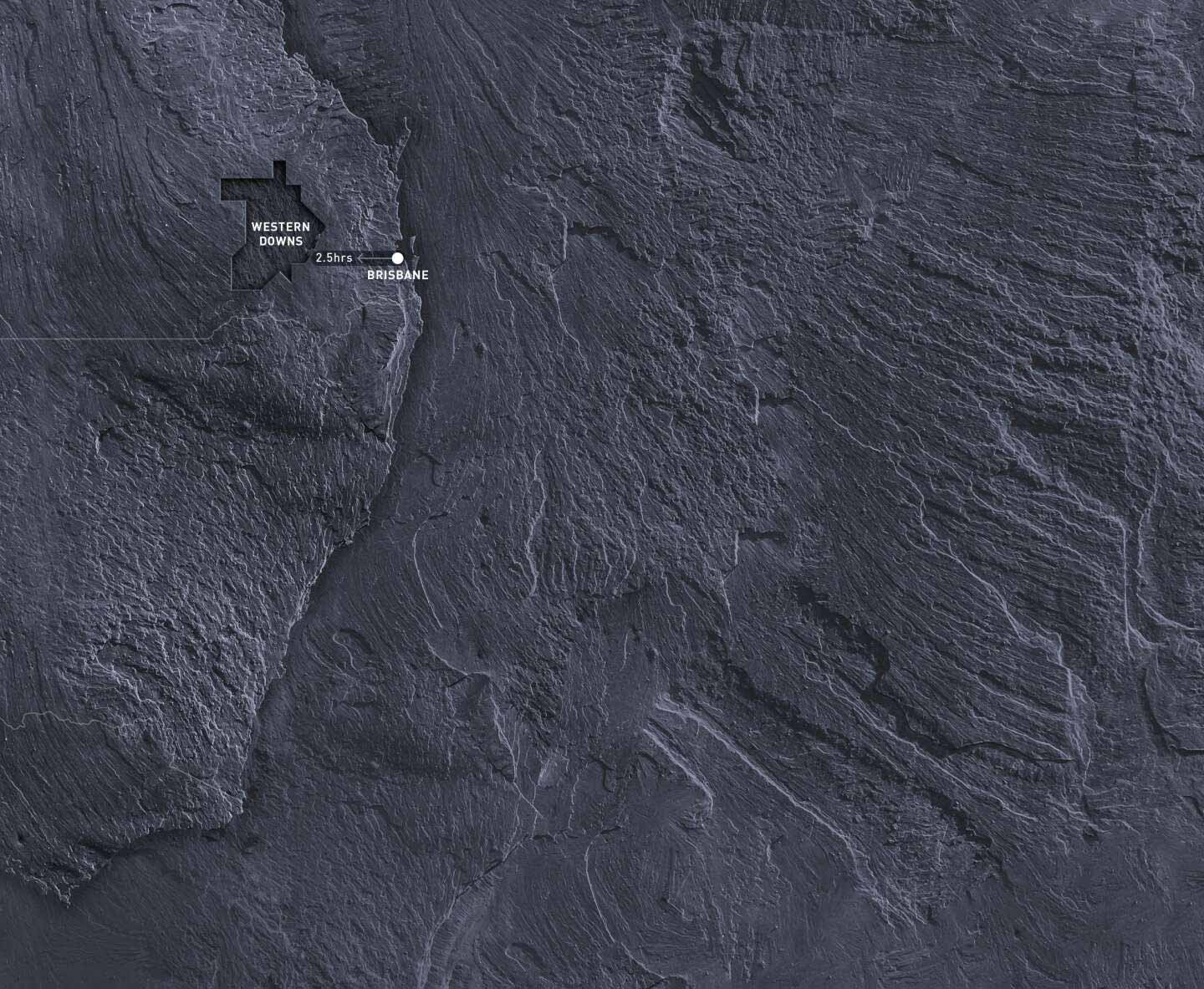 Subscribe to our newsletter