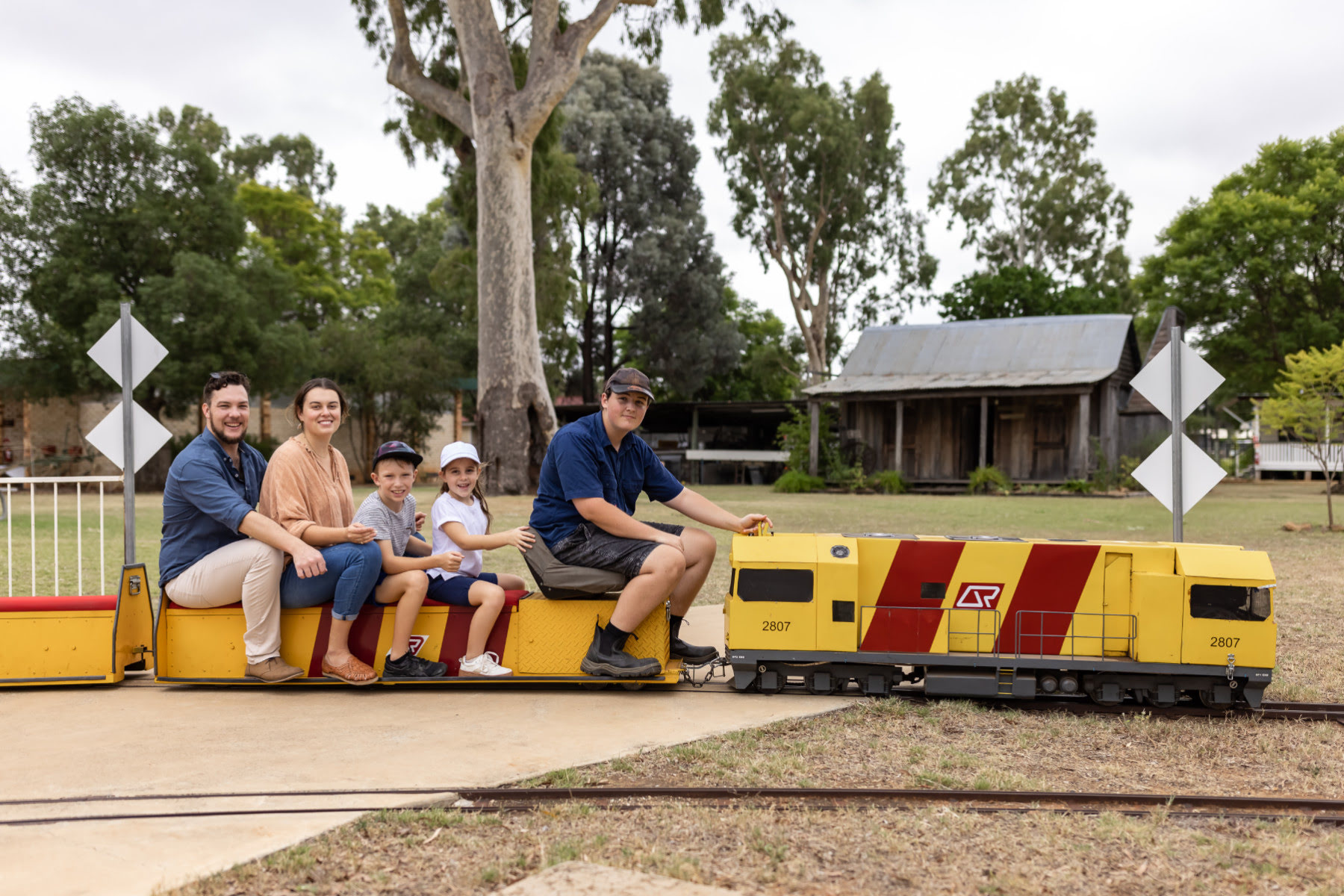 For the Kids
Experience Western Downs and enjoy family time.
We've got you covered from a selfie at The Big Melon to a festival of Big Skies and all things in between.
Try your hand at fossicking or pitch a tent, drop a line and roast a marshmallow.
Big Melon Selfie
This slice of watermelon looks good enough to eat.
Stop and grab a selfie at Chinchilla's Big Melon, your friends will be jealous.
You're now in melon country, home to the famous Melon Festival where thousands congregate biennially to enjoy pip spitting, watermelon skiing and watermelon eating competitions to name a few.
Once you've ticked the selfie box and posted to your family and friends, head to the Chinchilla Visitor Information Centre, for some local produce and a selection of local artists wares and of course the obligatory melon magnet for the Grandparents
Next stop is the award-winning Botanic Parkland, located behind the visitor centre and the perfect space to stretch legs and for the kids to burn some energy. This is a great space to enjoy the megafauna discovery sand pit, melon water play area, parkour equipment and lots of space for cartwheels and a game of tiggy.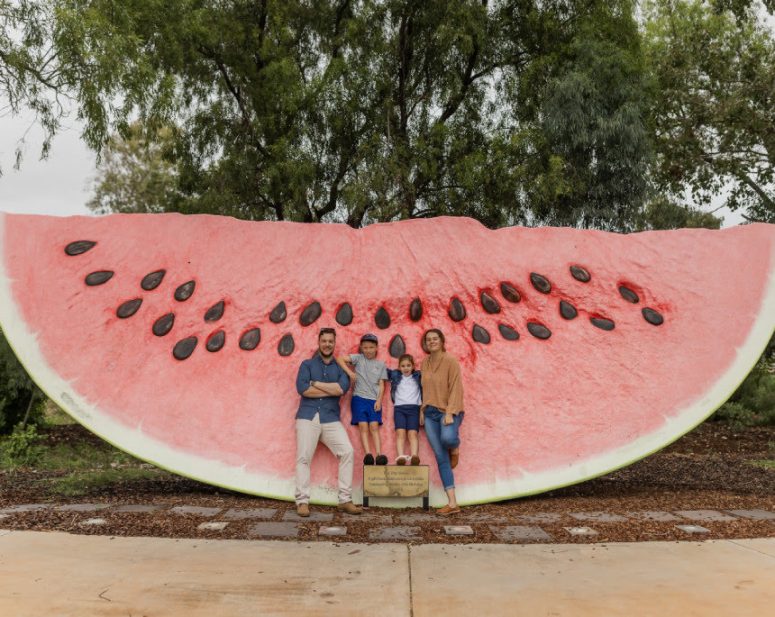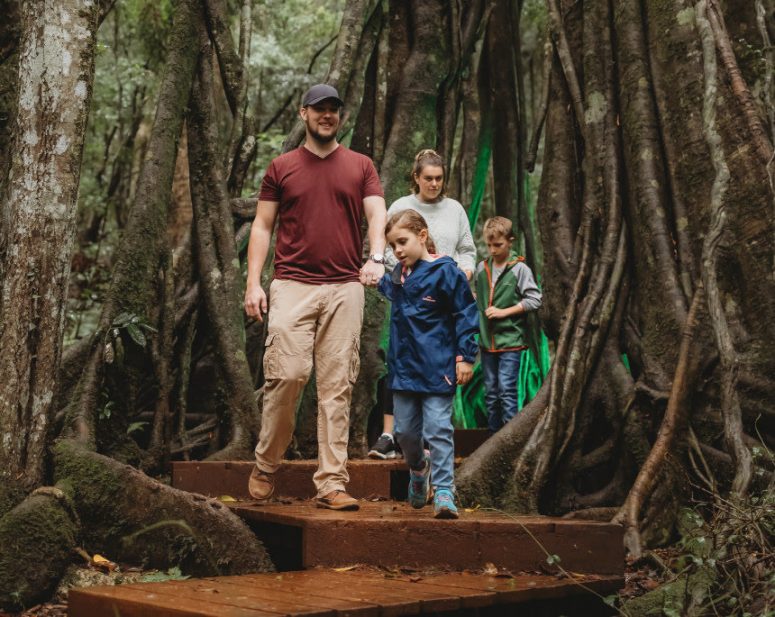 Bunya Mountains with the family
Pack those walking shoes and water and get hiking through the spectacular Bunya Mountain walking tracks, there's a track for all ages. This pristine, peaceful and spectacular wilderness is only 2½ – 3 hours from Brisbane and 3 – 4 hours from both coasts. Don't miss the 4km Scenic Circuit Track taking in Festoon Falls, Pine Gorge lookout with its grasstrees along the ridge and breathtaking valley views, past the Tim Shea falls and lots of peaceful rock pools. It's an easy walk, guided by interpretive signs through spectacular rainforest.
Keep your eyes open for the park's 120 species of birds, including brilliantly coloured Australian king-parrots, crimson rosellas and satin bowerbirds.
Take your picnic and catch the amazing sunset at the Bunya Mountains Outlook, the perfect spot to see for miles. Experience the sunset over the horizon which seems to stretch forever. Stay a bit longer to admire a billion stars, look for shooting stars and watch the light twinkling from the local towns and cities.
Families can catch the horse drawn carriage rides; we suggest contacting Allan on 07 4668 3115 before your visit to lock in a spot. If your travel plans have you in the Bunya Mountains on the last day of the month, you can also enjoy the fabulous Bunya Markets with over 30 amazing handmade stalls with something special to tempt everyone.
Miles Historical Village Museum
Booking can be made at www.mhv.org.au
A visit to Miles is not complete until you step back in time at Miles Historical Village Museum.
Home to 34 buildings of which 15 are genuine original structures, 10 are replicas and 9 are purpose built. Together they form a pioneer settlement with a village streetscape which gives you an insight to the workings of an early Queensland rural town. Families can explore inside all the buildings and guess what it's pet friendly too.
For the kids, there is also the fun of searching for "Where's William", the name of the game is to find William Miles' picture hiding in 7 places throughout the entire village and complete their competition form.
Arrive at the front desk or book your ticket online for a self-walk tour.
Or if you prefer to be guided book online to enjoy the village though the eyes of our local tour guides.
Spend 1 ½ hour learning about the village and what make it unique.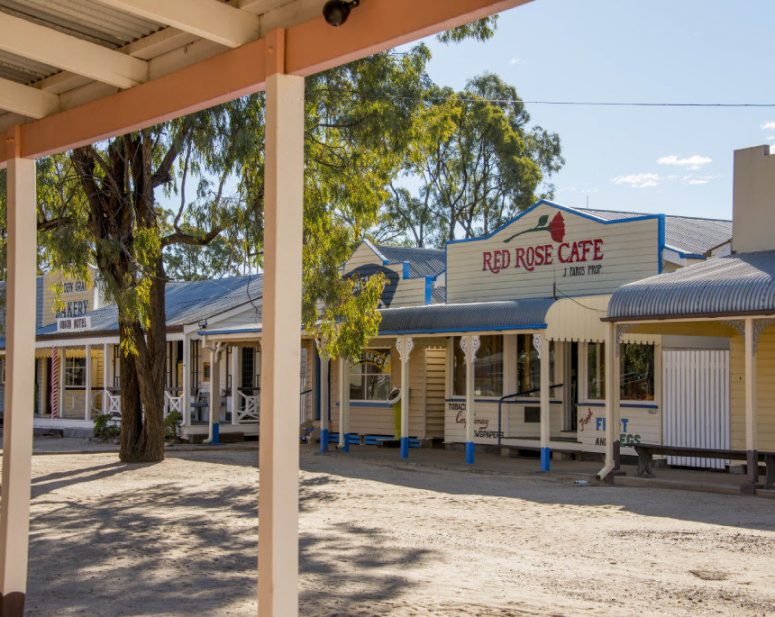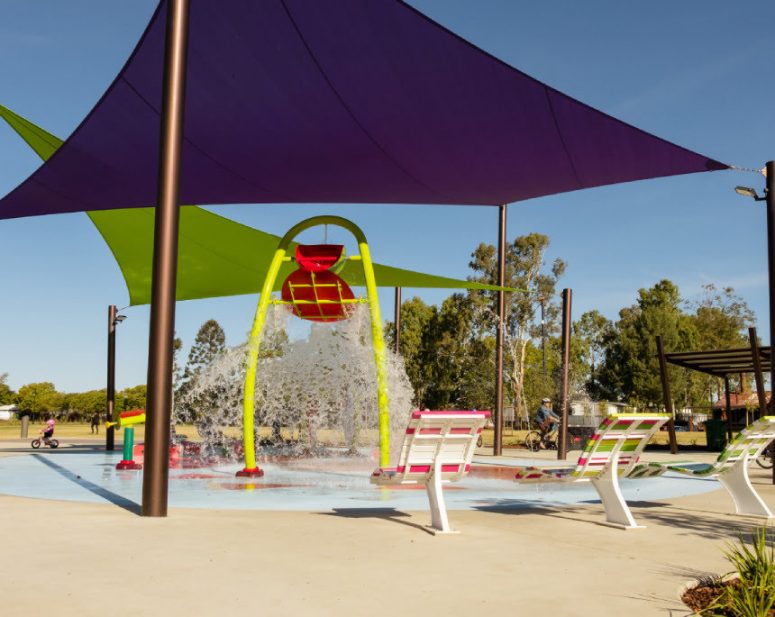 Chinchilla Botanic Parkland Walk and Water Play
Pack your beach towel and SunSmart swimwear and make your way to the large melon as it fills with water for the unsuspecting kids below. Once the kids have dried off, they can try their hand at the parkour climbing frame and don't forget to pack their scooters. Town is less than a 5-minute walk where Mum and Dad can grab a coffee to enjoy as they stay clear of the kids and their water pistols.
This Parkland incorporates the prehistoric flora and fauna native and reflects the region's Aboriginal cultural history and the town's railway heritage connection with the early Western line.
For the parents, the Parkland showcases the regions diverse flora such as black cracking clays, Chinchilla red sands, Barakula wildflowers and blooming wattles, as well as iconic local species such as White Cypress Pine, Chinchilla White Gum, Wilga, and Silver Leaved Iron Bark.
Farm Tours
To book an experience please visit Hoofprints of Change Farm Tours.
Call ahead to secure your farm tour which are available on request, Mobile 0437 149 610 and website www.cloverhillcamping.com.au
Families can choose from two farm tours in Chinchilla.
At Hoofprints of Change families can experience an exclusive personal farm tour of "Cumalong", You will learn about Red (Akaushi) Wagyu and crossbred Wagyu cattle and how it's their mission to raise the healthiest and tastiest beef using sustainable and environmentally friendly farming practices.
They can also personalise your exclusive farm tour experience to meet your family's travel schedule. You can opt in to stay longer on the farm and join the family on the homestead verandah for some good old-fashioned country hospitality.
For families planning to stay and eager to enjoy a farm tour, we recommend setting your camper up at Clover Hill Accommodation & Camping, a unique campground right on Chinchilla's doorstep. Set on 35 acres on the banks of Charley Creek, it has a beautiful bushland setting and offers a truly tranquil experience. The good news is they're also pet friendly, so your puppy also gets to enjoy walks by the creek and sit by the campfire. The town centre is only a short stroll as is the Lions playground.
This paid campground offers toilets, showers, access to potable water, and power hook ups. Open fire pits and firewood available. There is accessibility for RVs, camper trailers, caravans and big rigs. Pull through bays available and camping in tents is also encouraged.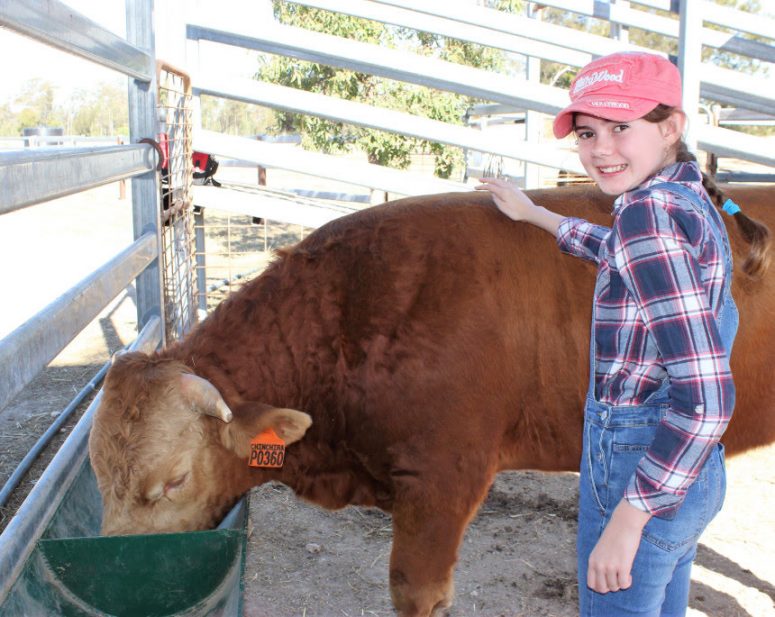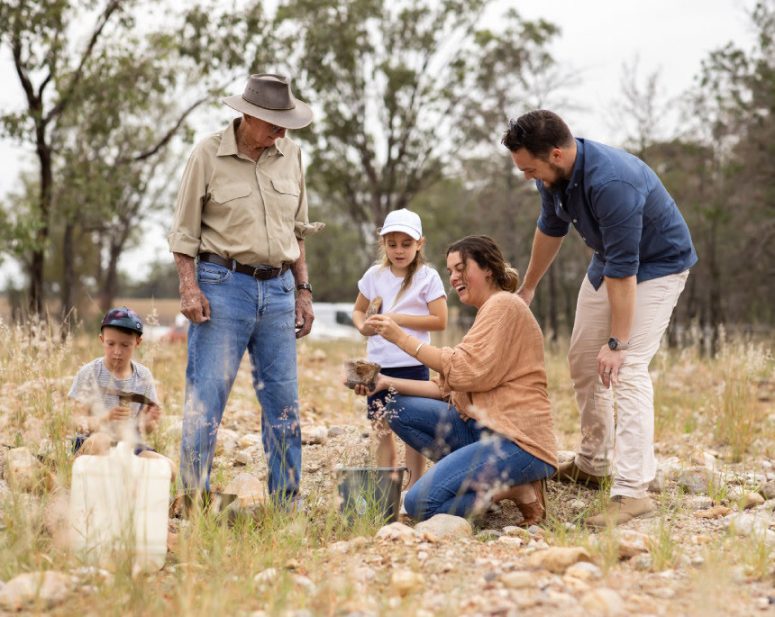 Fossicking
Chinchilla petrified wood dates to the Jurassic period with cycads, conifers and ferns being covered with massive amounts of volcanic ash and mud flows. A Department of Natural Resources & Mines licence is required in addition to site fees to fossick on two local Chinchilla sites.
Both can be obtained at Chinchilla Visitor Information Centre.
Chinchilla petrified wood dates to the Jurassic period with cycads, conifers and ferns being covered with massive amounts of volcanic ash and mud flows. A Department of Natural Resources & Mines licence is required in addition to site fees to fossick on two local Chinchilla sites.
Both can be obtained at Chinchilla Visitor Information Centre.
Fossicking on the Western Downs Booklet
While you're there you can make sure to grab your Big Melon selfie.
Jimbour House
Bookings can be made at https://jimbour.com/shop/.
Forget the 24-hour plane ride to France to walk through the gardens of a French colonial-style country home, just drive to Jimbour House.
Established in 1876, this heritage-listed property in the Western Downs takes its name from Jimbour Station – a pastoral holding that once covered over 300,000 acres of land from the Bunya Mountains to Condamine. Kids can burn their energy as they explore the gardens and play hide and seek behind the huge Moreton Bay Figs, pack your picnic and book into to tick this one off your bucket list.
An Amphitheatre in the grounds provides the setting for major cultural events and performances – including the annual Big Skies Festival, on from 28 September to 2 October – visit bigskies.westerndownsqueensland.com.au for tickets.
Guided Residence Tours – Available on the 1st Wednesday of every month at 10.30am.  Bookings taken via our website www.jimbour.com
Self-Guided Garden Tours – Available on the first and last Wednesday of every month between the hours of 10am and 4pm (with last entry at 3.30pm).  Bookings taken via our website, www.jimbour.com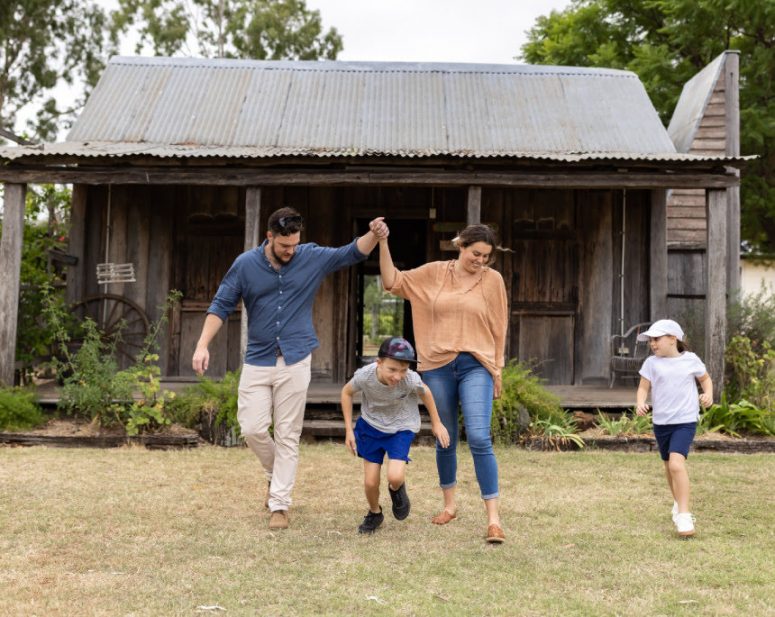 Chinchilla Museum and Mini train
For opening days and times please visit chinchillamuseum.com.au
Situated next to Chinchilla award winning Botanic Parkland is the Chinchilla Museum, a place of history, memories and lots of space for active kids to explore.
Visitors will discover a showcase of the town and surrounding district's history, featuring a petrified wood display, the Cactoblastis story, Cypress Pine and new Fire Tower Interpretive centres.
Chinchilla Museum also houses a collection of objects representing the history of Chinchilla and surrounding districts in a variety of historical buildings.
Most importantly for the kids, the Mini Rail runs on the 1st Sunday of each month – check the Museum Facebook page for times (there are different times for Summer and the rest of the year). Always available is a sausage sizzle, cold drinks and icy poles.
Cinemas
Western Downs Cinema at Chinchilla has EFTPOS, access for disabled patrons, are fully air conditioned and feature a Candy Bar with popcorn, drinks and snacks available for purchase as well as ample parking on site.
We also cater to people who have difficulty seeing and/or hearing which may benefit from assistive devices to improve their overall cinema experience.
The cinema is commonly known as the Ironbark Theatre, shares its landscaped grounds with the Western Downs Regional Council Customer Service Centre, the Chinchilla Library and Lapunyah Art Gallery.
Bring friends and families together for the latest flicks and some good old-fashioned entertainment, with new luxurious ergonomic seating to boost viewer comfort and upgraded cinema acoustics, floor covering, and aisle lighting.
Head to https://westerndownscinemas.com.au/ for further details.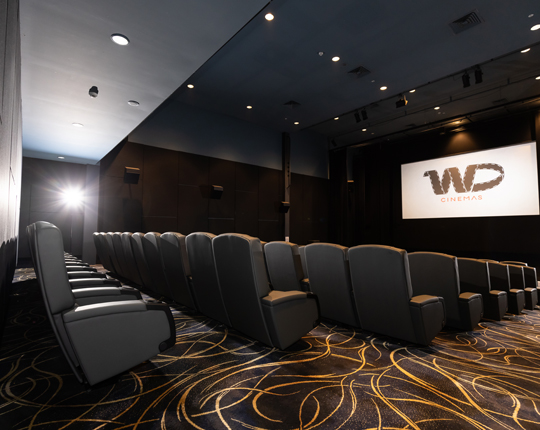 Children's Activity Book
Looking for an activity the kids can do while driving around the Western Downs,
Feel free to download a copy of our Children's Activity Book or call into one of our Visitor Information Centre and grab a free copy.
Fun facts, crossword and some colouring in will keep those young minds entertained.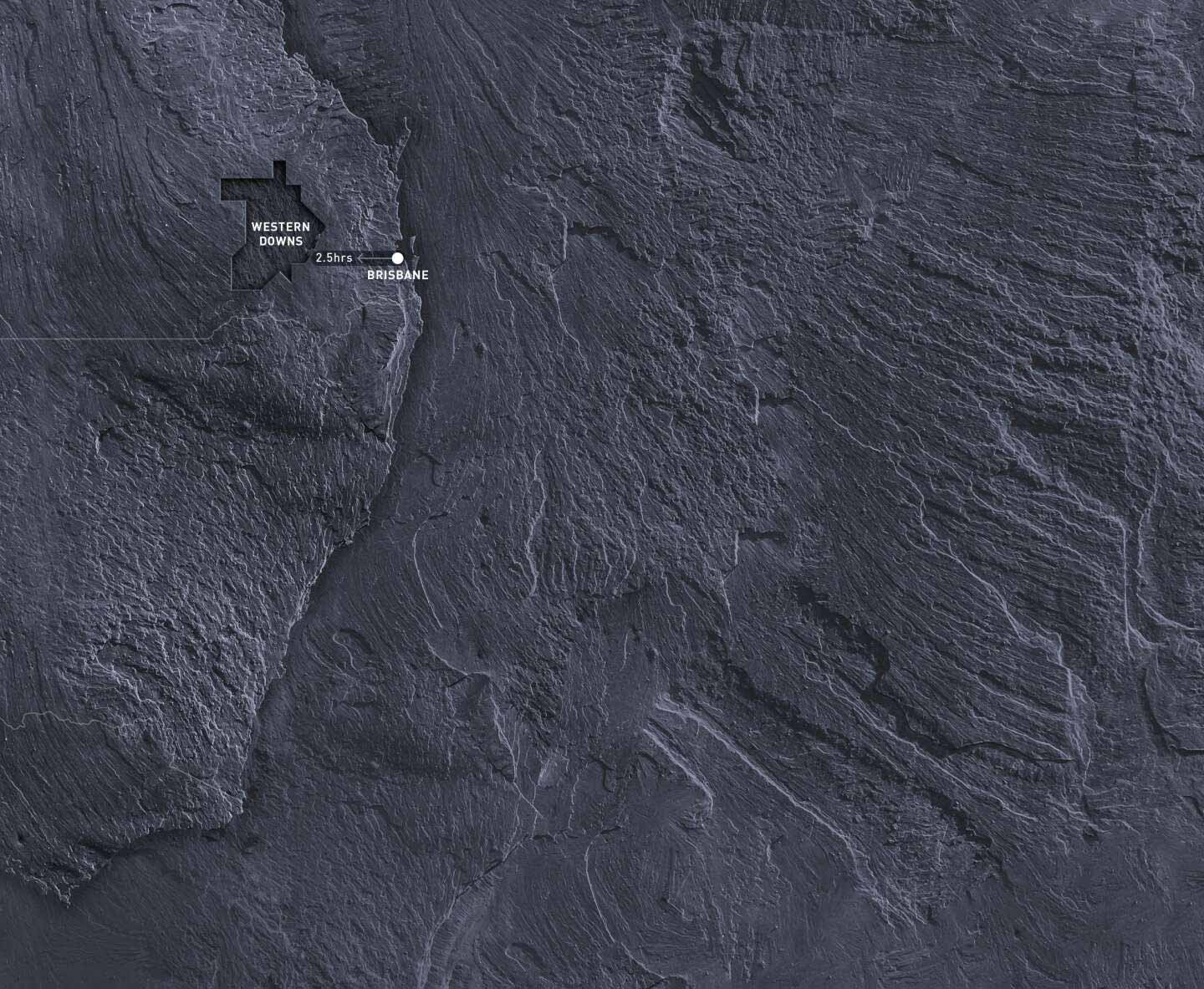 Subscribe to our newsletter