Attention all camping newbies, if you're wanting to get off the grid but not sure where to start, what to pack or where to go, allow us to ease you into the process with our beginner's guide to camping.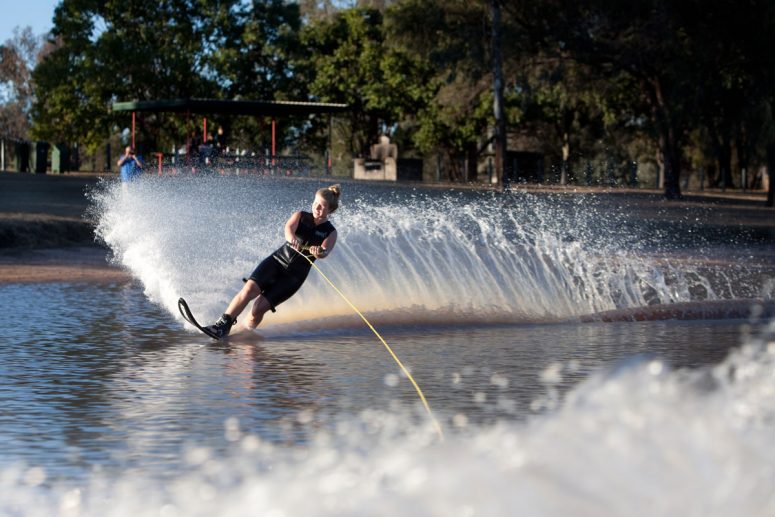 Every seasoned camper will tell you the secret to camping success is all about preparation, so follow along for our recipe for the perfect Western Downs camping experience.
Step 1: Gather the essentials
You don't need to pack everything including the kitchen sink when it's your first time camping.
Camping equipment is best accumulated over time once you know exactly what your family needs.
For your first foray into the great outdoors, pack a tent, sleeping bag and pillows and opt for a campground that provides most of the camp kitchen and bathroom amenities.
Ensure you check the weather (remembering the Western Downs can get frosts on chilly winter mornings and yet will require swimmers and a towel in summer) and pack clothes accordingly.
Step 2: It's all about the location
As a first-time camper, there's no need to go from A to B (ear Grylls) in one leap.
Instead, choose a campground with comfort in mind, close enough to town amenities should your first camping trip go pegs-up and need a plan B.
Not sure where to start? We've rounded up the best beginner campgrounds across the Western Downs.
Dalby
Pioneer Caravan Park
If you're looking for a comfortable camp spot, you'll find it at Pioneer Caravan Park with its in-ground swimming pool, undercover kitchen, and BBQ area.
No need to worry about making your own breakfast, Urban Paddock is two kilometres away from this site, which includes both powered and unpowered sites.
Forget long days spent sitting in the campground, the Pioneer Park Museum is just across the road for when you need to escape your four canvas walls.
Dalby Tourist Park
No need to stress about packing groceries for your stay at this convenient campsite. The Dalby Tourist Park is located in central Dalby on the banks of Myall Creek, walking distance to all your grocery needs.
Alternatively, if you're not in the mood for the washing up, you can simply stroll down the road to Butchers Pantry for a burger and loaded fries.
This campsite provides powered and unpowered sites, a large caravan park area (with drive-through access for larger motorhomes), an undercover BBQ area, camp kitchen and coin-operated laundry.
Lake Broadwater Conservation Park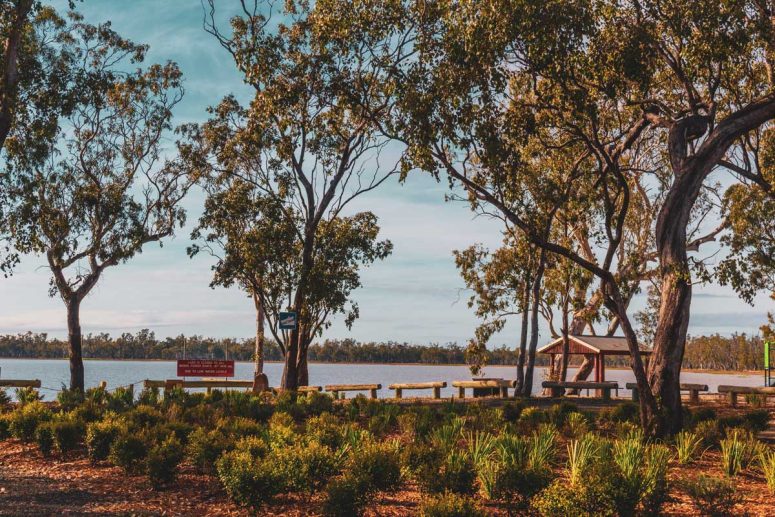 Check yourself in for a night around the Western Downs only freshwater lake, Lake Broadwater Conversation Park, and take in 350-hectares of raw beauty surrounded by cypress pine and eucalyptus trees.
Enjoy the recently upgraded camping facilities including a camp kitchen, lakeside communal firepit and powered camp sites.
If you're looking for activities during the day, we recommend driving down the road to the Red Gum Track for a casual three-kilometre stroll around the lake's perimeter.
Chinchilla
Chinchilla Tourist Park
We bet you weren't expecting to find a buffet breakfast on your first camping trip. Not only does the Chinchilla Tourist Park offer their guests two camp kitchens, you can also expect a warm brekkie in the morning (from 5am) and evening meals (from 6pm).
Spread across three acres of landscaped parkland, this spot is perfect if you want to feel like you're out of town but within an 'uh-oh we forgot the matches' reach of local grocery stores.
We recommend popping over to Gleeson's Meats where you can pick up a couple of steaks to fire up on the BBQ.
Chinchilla Country Camping
For a campsite tucked away out of town, drop your tent pegs into Chinchilla County Camping. Set on 30 acres of bush, two kilometres north of Chinchilla, this campground is suitable for any type of camper or caravanner.
Look forward to cosy nights around the communal firepit, an amenities building with private bathrooms and a welcoming committee of local sheep and lambs.
For those travelling with their four-legged best friend, you'll be happy to know this site is also dog-friendly (pssst – for more pet-friendly accommodation options, head over here).
Clover Hill Accommodation and Camping
Nestled on the banks of Charley's Creek, you'll find Clover Hill Accommodation and Camping.
Touting the best wagyu beef in the region and walking distance to Chinchilla's town centre, you won't need to lug groceries with you when you can stop by the Farmers Markets to pick up fresh fruit and veggies.
This campspot is equipped with toilets, showers, potable water, and power hook-ups, making it ideal for RV's, camper trailers, caravans, and big rigs.
If you would like to dine with a difference on a Friday night, Clover Hill Ranch offers a Smoked Wagyu Beef Dinner featuring the juicy Brisket cut of beef and accompanied with oven roasted vegetables, all for the cost of $30. Take the time to chat with Steve and Ursula, who will tell our about their journey and their future plans.
Miles
Columboola Country Veterans Retreat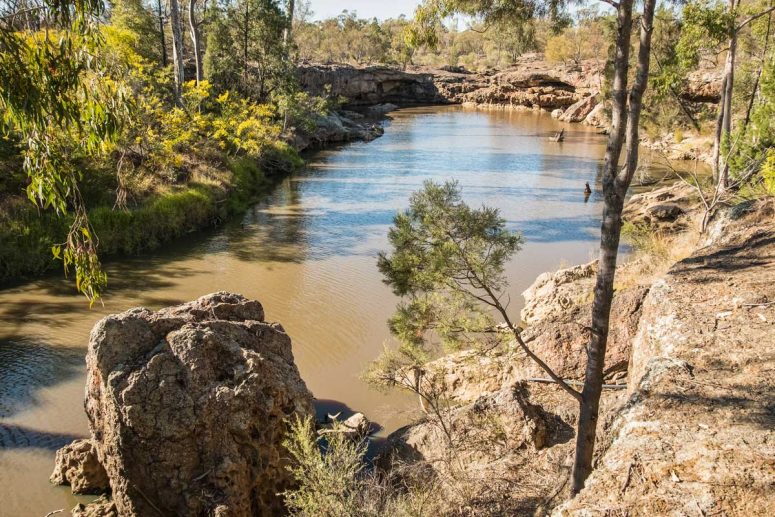 Located in between Chinchilla and Miles and set on 200 acres of bush, settle into the Columboola Country Veterans Retreat.
Don't let the secluded nature of this campsite fool you, hot showers, flushing toilets and a full commercial kitchen await you in this country campsite.
Make the most this spacious location by heading out for a bush walk and birdwatching – or drop a line in the local swimming hole.
Possum Park
Expect a history lesson at this camping experience with a difference.
You'll find Possum Park 15 minutes north of Miles based on the Brisbane Line, a site used during World War II as a line of defence extending from Brisbane to Charleville.
For your accommodation, choose from bunkers, train carriages, cabins, bring along your caravan or pitch a tent under the stars. Click on the link for further information Possum Park
Miles Crossroads Caravan Park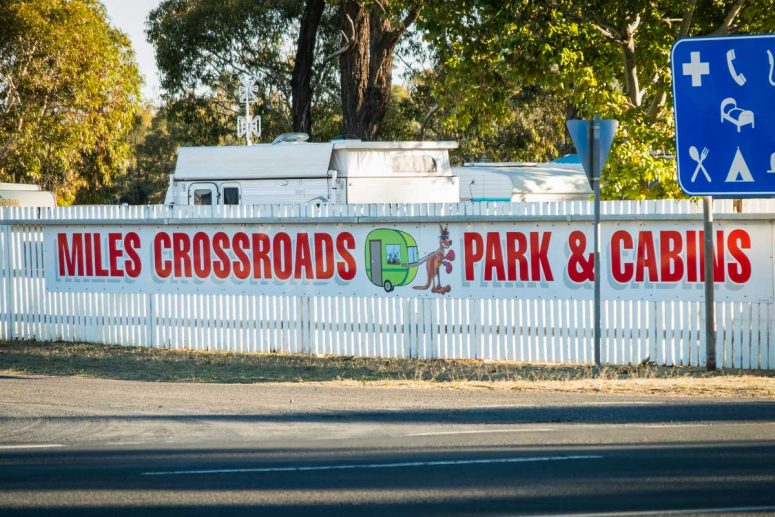 No need to worry about roughing it when it comes to the Miles Crossroads Caravan Park with its air-conditioned bathroom with dressing rooms, camp kitchen stocked with tea and coffee and pizza oven onsite.
Location-wise, the local IGA is only 300ms away for all your grocery needs.
If you're looking for something to do on your trip, simply stroll across the road to Miles Historical Village Museum and spend the day exploring the 34 replica buildings that depict Queensland's rural history.
For more history where this came from, check out these historical experiences to inspire your Western Downs adventure.
Gil Weir on Dogwood Creek
If you're a fan of water sports, pack your canoe and head to Gil Weir on Dogwood Creek.
Find it approximately five kilometres south of Miles, where the meandering Dogwood Creek is the primary source of water for the town.
Camp for free under the stars and enjoy amenities like wood-fired BBQs, picnic tables and toilets.
Caliguel Lagoon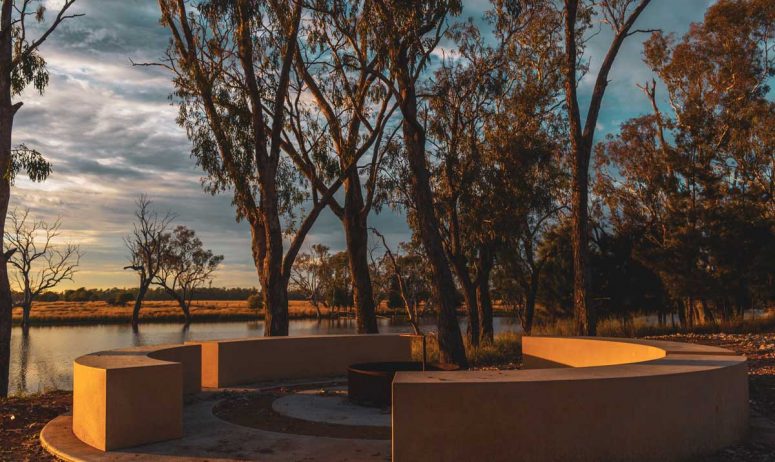 You won't be short of things to do when you pitch your tent at Caliguel Lagoon, seven kilometres south of Condamine.
Spend the day in the water boating, swimming, and water-skiing, then relax in the afternoon with a spot of fishing.
The newly upgraded amenities include electric BBQ plates and a sink so you can cook up your catch.
Tara
Tara Lagoon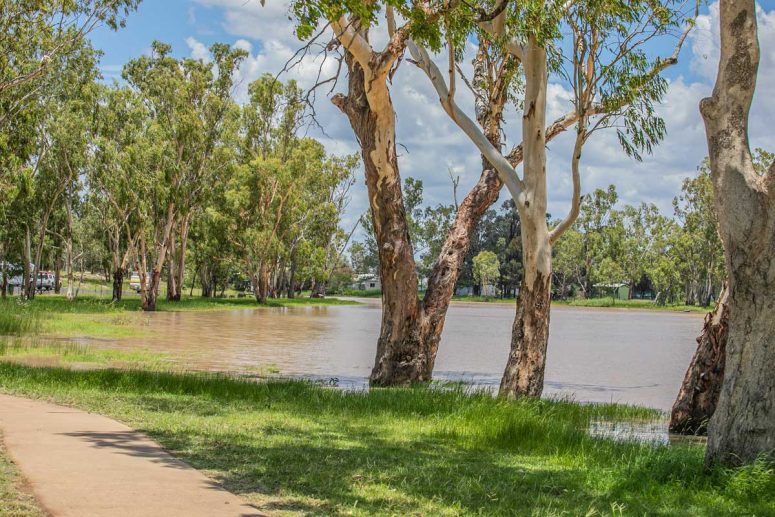 Tucked away on the edge of town, based on the local showgrounds you'll find Tara Lagoon.
This campsite has recently undergone a makeover and now offers a new kid's playground, BBQ area and picnic facilities.
This spot offers the best of both worlds with its central parkland location, only a short drive to the local Foodworks and popular Woolshed Bakery or Tara Cafe.
Jandowae
Jandowae Showgrounds
Located at the southern end of Warra Street, the Jandowae Showgrounds offers both powered and unpowered sites and all important for first time campers, flushing toilets.
The onsite caretaker has a wealth of knowledge of the Jandowae area, to help you explore the Western Downs if it's your first time west of the Great Dividing Range.
With no onsite BBQ facilities, you'll have the perfect excuse to head into town for a meal at the Exchange Hotel for a taste of country hospitality.
Step 3: Live in the moment
With your campsite selected, now's the time to put down your phone and replace screen time with green time.
Camping is all about letting go of the creature comforts of everyday living and embracing the serenity and simple pleasure of the outdoors.
What are you waiting for? Soak up the atmosphere and get back to nature.
Don't forget these resources to help inspire your camping adventure:
Check out our Camping, Caravanning & Fishing brochure for more inspiration to help plan your camping adventure through the Western Downs.