Ever wondered what life on the farm really looks like? Wonder no more and venture out to the Western Downs – the gateway to the outback and home to some of our nation's strongest producers. You'll find no better place to tick a local farm stay off your bucket list!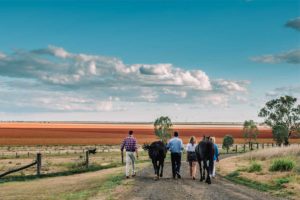 Our local farm stays are just that – an opportunity to come, stay on site and experience first-hand the beauty of farming in regional Australia. Wake up in a cosy cottage or hearty homestead and listen to the chime of native birds in the morning. Step out the door and get ready for adventure with so much on offer right in the backyard. Whether it be swimming in the nearest watering hole, learning to ride a horse or getting to know some of the local four-legged friends, there's something to keep the whole family busy.
When we mention 'farming', you might be picturing the hard life of the McLeod's Daughters gang. While farming anywhere can be a tough gig, it's not always the hurdles of Drover's Run. What we can promise you though, is beautiful scenery, good ol' country hospitality and a craving to return as soon as you leave.
It's not often you'll find a region willing to give up their secrets, but by swapping your everyday hotel accommodation for an authentic Western Downs farm stay, you're sure to get an insight into what country life looks like for our farming legends.
Check out some of these local Western Downs farm stays that will have you swapping those bucket hats for a true-blue Akubra in no time – just don't forget to shut the gate behind you.
Columboola Country Veteran's Retreat (Miles)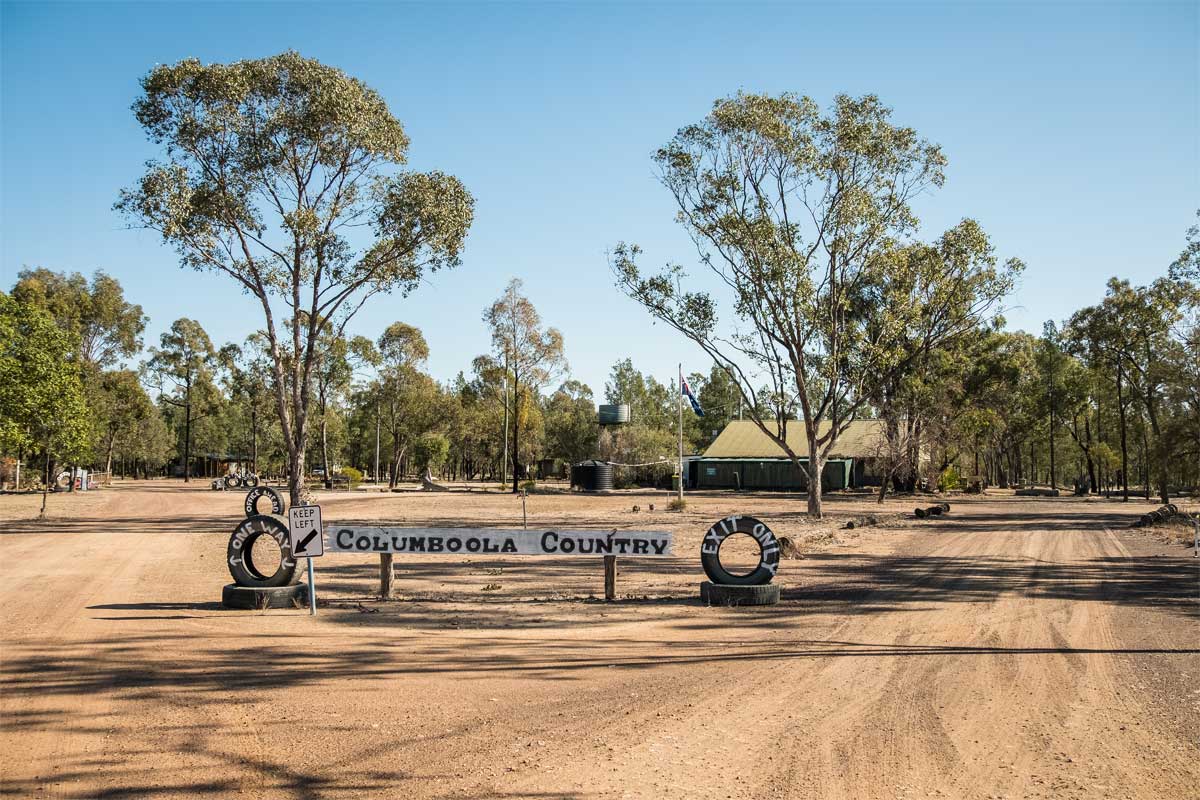 If the ultimate bush experience is your drawcard, get back to nature at Columboola Country – a 265-acre property that's ready to have you sighing at the serenity.
There's a range of accommodation options on site including unique cabins and room for camping or caravanning. If you don't mind saying hello to some friendly farm folks, Minty the sheep will be ready to greet you. The farm dogs, cats and chickens also roam the area, ready to say g'day.
There's so much to do around the park so get ready to make an Aussie adventure out of your stay. If exploring is your thing, take the opportunity to wander the bushland or find a hidden cave. If you'd prefer to just sit back and relax, Punchbowl Creek is the spot for you. 'The Punchbowl' divides the property and is one of the most spectacular natural waterholes around, offering a place to swim, cast a line and even catch a yabbie (if the bush tucker experience appeals to you, you could even try and toast your catch over the coals later on).
When the sun goes down, take the opportunity to try camp oven cooking over a country fire. Oh, and to make the greatest campfire memories, be sure to pack a bag of marshmallows – you can bet there'll be a nice big stick around to toast them on. If you've experienced the big open skies here before you'll know nothing beats an evening under the galaxy on the Western Downs – but if this is your first time, get ready to be star-struck.
It's surely an adventure to remember and a unique experience to add to the bucket list. We promise you won't help but fall in love with the peace and quiet of the bush at Columboola. To book your stay, visit the Columboola Country website.
Limberlost Cottage (Bell)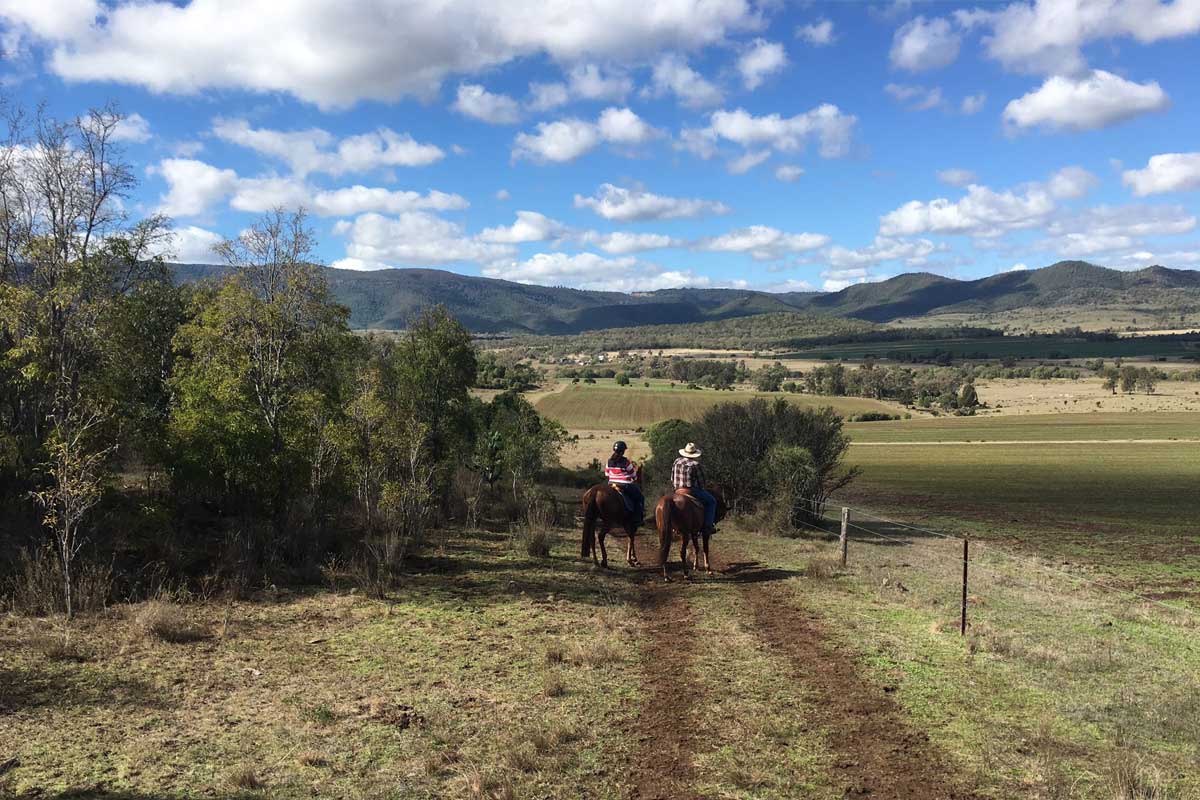 If you're looking for a full farming experience for the entire family, Limberlost Cottage is the place to be. It's a true hidden gem sitting peacefully in the foothills of the Bunyas (between Bell and the Bunya Mountains). In the fresh open air, Limberlost is the perfect escape from your everyday hustle and bustle and offers plenty of space for the kids to run around.
This beautiful property is a working farm so don't miss the opportunity to observe farm duties or wander amongst the chickens and guinea fowls. Surrounded by such sensational scenery, you'll have to find time put your walking shoes on and explore the Western Downs countryside on a bushwalk. Get out and about, meet the friendly animals or go birdwatching and search for Australian wildlife.
A stay at this hidden gem offers something for everyone and the beauty of it is, you can make it as relaxing or adventurous as you like. The cosy cottage is the perfect spot to reenergise and connect with nature and we're sure the fresh air will have you craving more. To plan your visit, check out their Facebook page or book online here.
Rosebank Homestead & Farmstay (Dalby)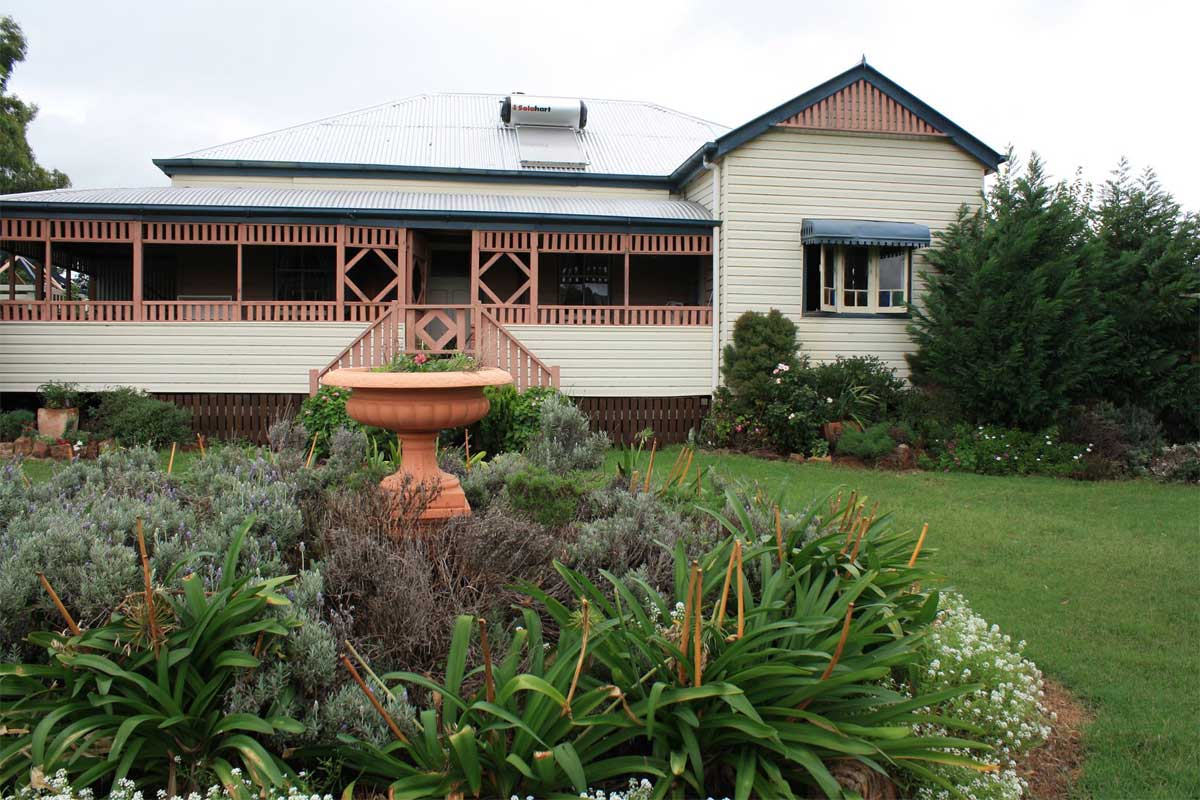 Are you ready for a farmstay that'll get your endorphins pumping? Rosebank Homestead & Farmstay near Dalby is a hot spot for horse riding, hiking, bush walking and seasonal swimming.
This grazing property is another stunner located at the foot of the Bunya Mountains and invites you and your furry friends (yes – pets are invited!) to make its four-bedroom Queenslander home for a night or two.
Although horse riding is a key attraction, don't miss your chance to explore the Western Downs and bush-walk along nearby country roads. If you're after more adventure, take the 20-minute drive to the Bunya Mountains and experience the trails, sights and sounds this magnificent place has to offer. The local roos and wallabies of the Bunyas will surely make you feel welcome and if you'd like to get up close and personal with the animals don't miss the local bird feeding (just bring a hat – we can't guarantee our feathered friends won't perch themselves on your head if you've got a handful of seed for them).
If you're after a spot to wind down, wake up to the smell of fresh air and enjoy a cuppa on the verandah or choose a good book from the homestead's extensive library. Enjoy a swim in the summer sun or sunbake in nature by the private pool. There's plenty to do at Rosebank so don't miss your chance to book the perfect little getaway, check out their website for more.
There are so many farmstay options around the region, these are just a sneak peek of what's on offer. So, come on out and experience it for yourself – your very own farming adventure awaits.