Perched 360km west of Brisbane, Miles is a town worth going the extra mile to find.
Only 4.5 hours lay between big city Brisbane lights and Miles country nights, where you can fill your days with history, culture, and the natural beauty of the Western Downs.
From flowers and festivals to cafes and coldies, we've got you covered with this list of where to eat, sleep, and play in Miles.
1. Step back in time at the Miles Historical Village Museum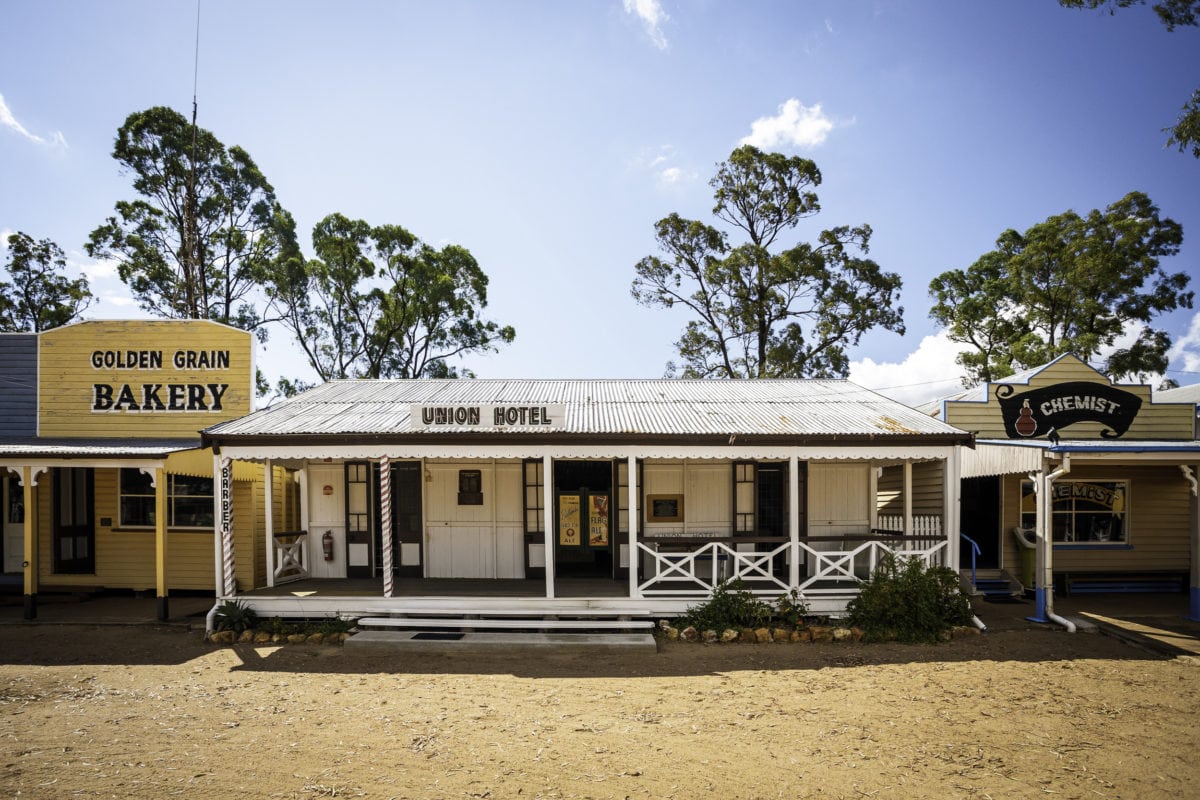 You don't need a time machine in Miles to transport yourself back a century.
Leave modern day life behind and enter an old-fashioned town centre at the Miles Historical Village Museum.
Complete with a school, church, bakery, chemist (to name a few), grab a self-guided map of the village from the front desk and spend a morning exploring the 34 museum buildings which have been set up like dioramas.
2. Learn about Miles at Dogwood Crossing
If you can't get enough of this town's history, make tracks to the arts and cultural hub of Miles – Dogwood Crossing.
Named after local Dogwood Creek, the multipurpose building encompasses a library, art gallery, IT centre and conference rooms which host public programs and events.
You won't miss it with eye-catching giant metal bottle trees standing tall at the front of the building.
The award-winning sculptural work brings the outside in, with a row of seven-metre tall steel bottle trees lining the centre corridor of the building.
3. Relax by Chinaman's Lagoon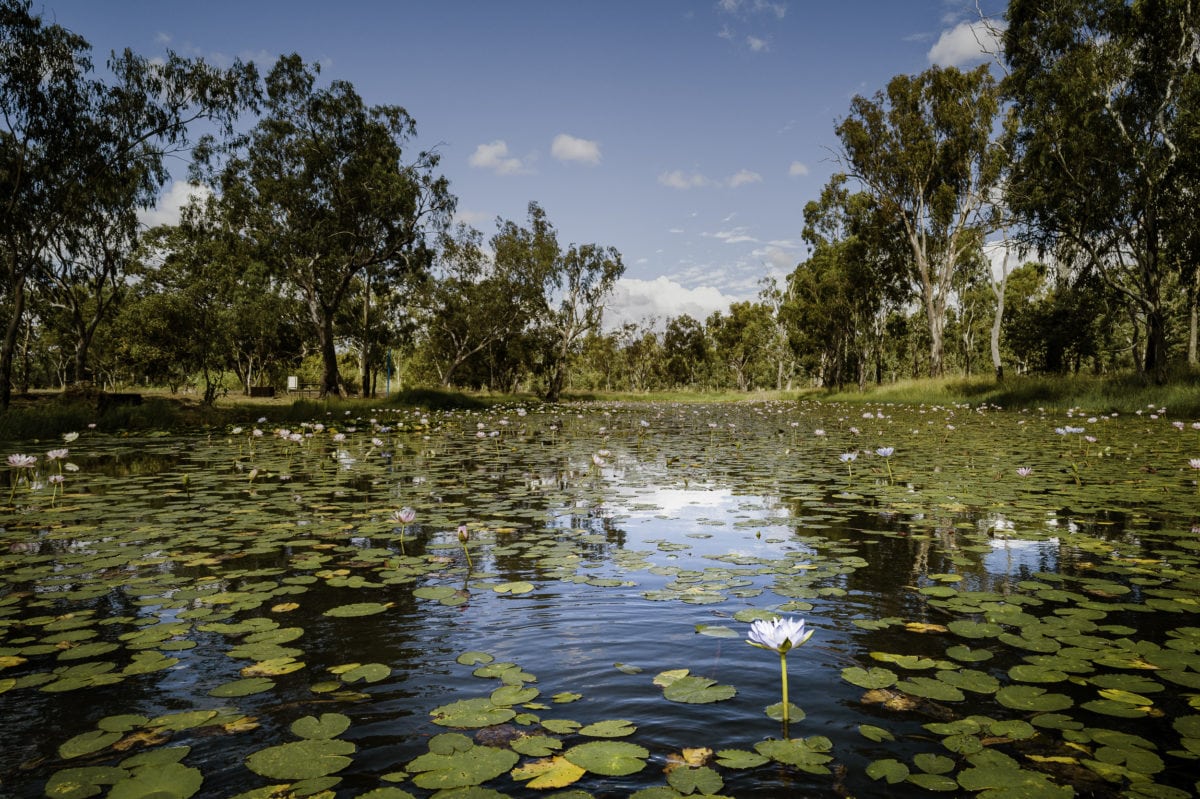 There's no need to worry about where to do your morning meditation in Miles.
With a visit to Chinaman's Lagoon on the southern edge of town, you'll be radiating zen vibes for miles around (see what we did there).
Treat your eyes to an Australian version of Monet's garden – hundreds of pink and purple water lilies floating atop three long lagoons, with bright green lily pads sprinkled in between.
Take a seat at one of the picnic areas and soak up the beauty and colours of the rare sight. Did you know this is one of only a few locations in the country where you can see the endangered water lily species thriving?
You can read about the lagoon's namesake on the interpretive signage – which follows the story of an outlaw Chinese market gardener who migrated to Miles in 1880.
Note: the water lilies are only in full bloom during the summer and autumn months, so time your visit accordingly.
4. Wander amongst the wildflowers
Known for its spring landscapes blanketed in colourful wildflowers, experience the Western Downs' floral show for yourself with a self-drive tour of the local wildflower hotspots.
Pick up a wildflower tour map from the Miles Visitor Information Centre (located at Miles Historical Village) and get your camera ready to snap some close ups with flourishing florals like Grevillea and Boronia.
5. Discover history in ANZAC Park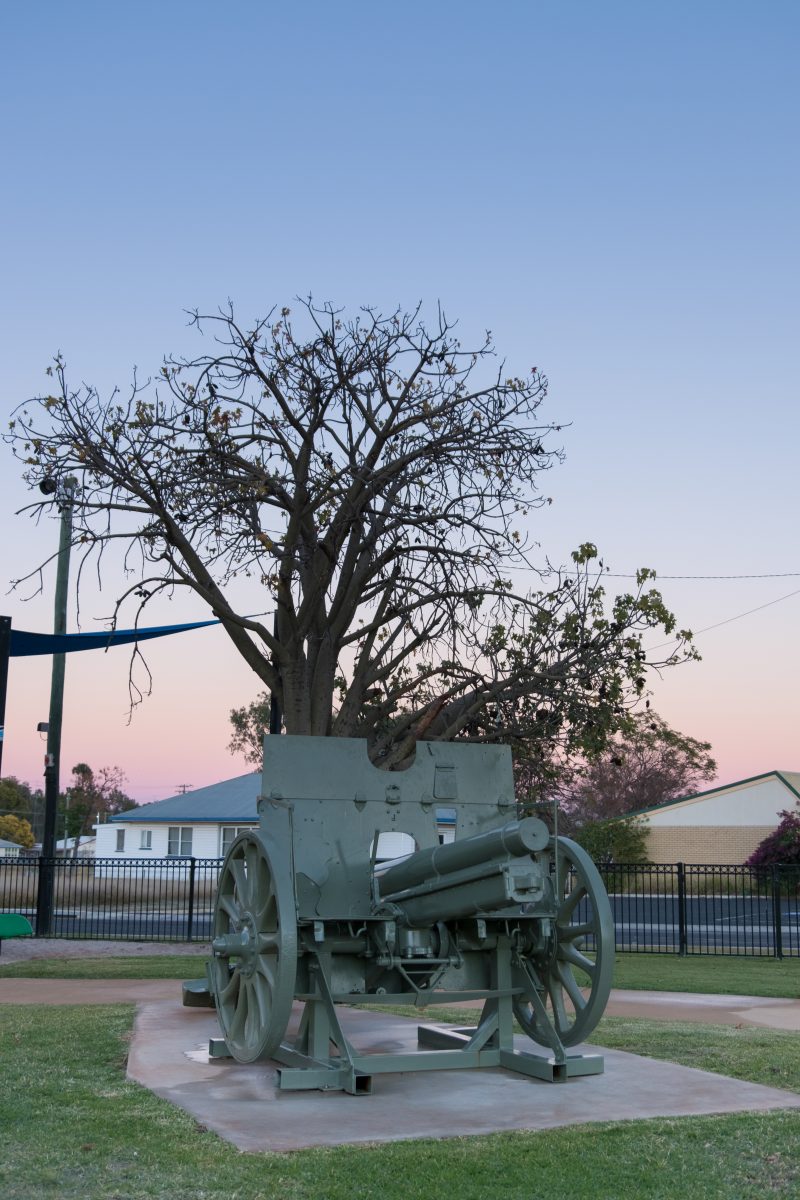 After recently undergoing a facelift in 2019, the ANZAC Park in Miles is more than just a pretty face. Enjoy a picnic in the park grounds and while the kids run off their lunch, take the time to pay your respects at the Remembrance Wall.
Make sure you don't leave before visiting the rare German artillery field gun. The 7.7-centimetre Nahkampfkanone was captured during the First World War in Messines and is believed to be only one of three in the world.
Get to know the history and heritage of the Western Downs with this trail.
6. Hide out at Possum Park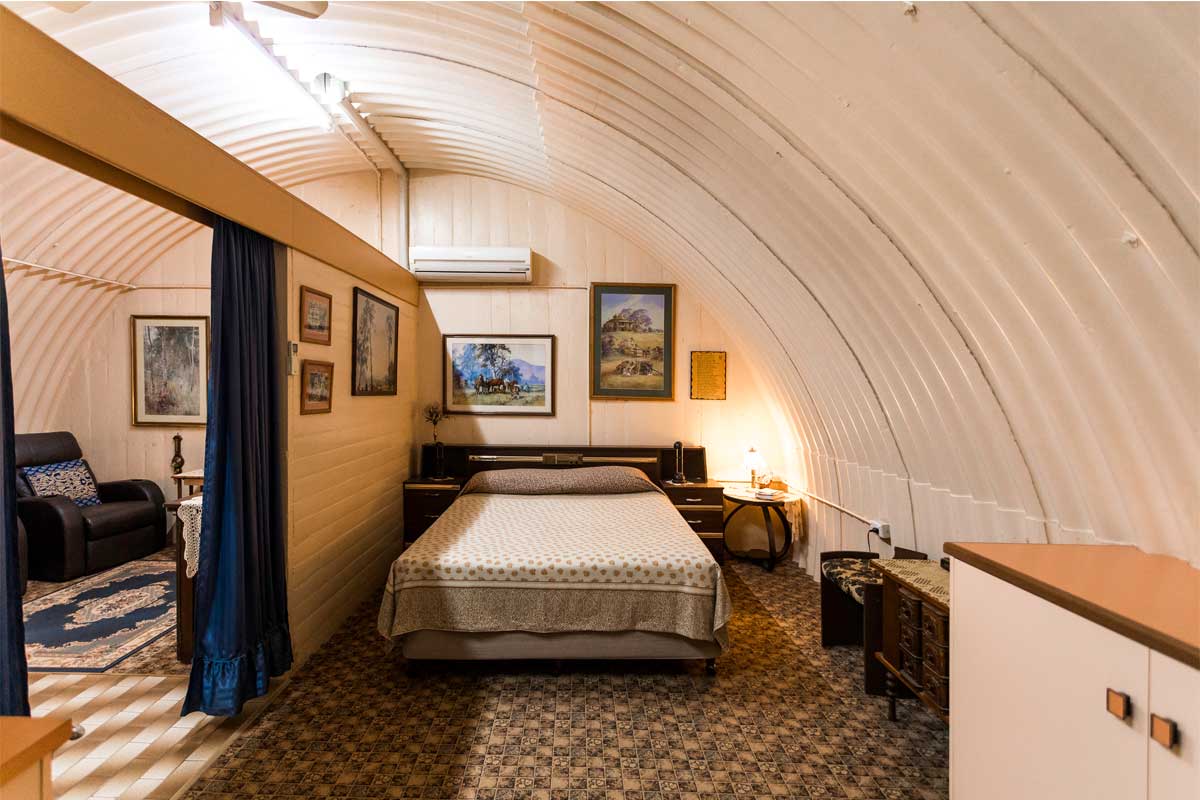 If you're after a true-blue country experience, check into Possum Park on the northern outskirts of town.
Take your pick from camping, caravanning, cabins, carriages (yup, we're talking restored train carriages), and even wartime underground bunkers, which were once used as ammunition storage before being transformed into self-contained units.
Hidden deep within bushland, the accommodation park allows for a country adventure with the comforts of a supermarket all within short driving distance.
Spend your days exploring the town, resting amongst the gum trees in the park, or trekking through the Gurulmundi State Forest, only a few minutes down the highway.
7. Attend the Miles Back to the Bush Festival
Celebrate country life with a long weekend at the Miles Back to the Bush Festival.
Every two years the festival takes over the town to showcase the best of rural living, with a street parade, markets, bush poetry and performances, and vintage car displays.
Take part in the action with tractor pulling competitions, bush obstacle courses, men's night and ladies' high tea.
If you've got a beard, you've got a battle – channel your inner-hipster at the beard appreciation event where they crown the best-looking beard and celebrate the funky facial hair styles.
8. Sink a coldie at one of the pubs in town
With three pubs within 300m of each other, it's no surprise downing a bevvo is a favourite local pastime in Miles.
Kick back and have a yarn with locals at the Queensland Hotel, Hotel Australia Miles and the Windsor Hotel.
The Queensland Hotel lights up the main street with strings of twinkle lights like it's Christmas all year round.
At the back of the pub you'll find a beer garden that's more reminiscent of a city courtyard barbeque, with fairy lights hidden amongst lush plants framing a few intimate table settings.
Discover more country pubs with this trail.
9. Take a stroll along Dogwood Creek
Your afternoon walk is sorted with the 5-8km Dogwood Creek track, circling the western and northern perimeters of the town.
Kicking off at Chinaman's Lagoon, your scenic stroll starts with water lily views, before winding along Dogwood Creek where you can spot native flora and fauna.
10. Take a day trip to Dulacca, Drillham, or Condamine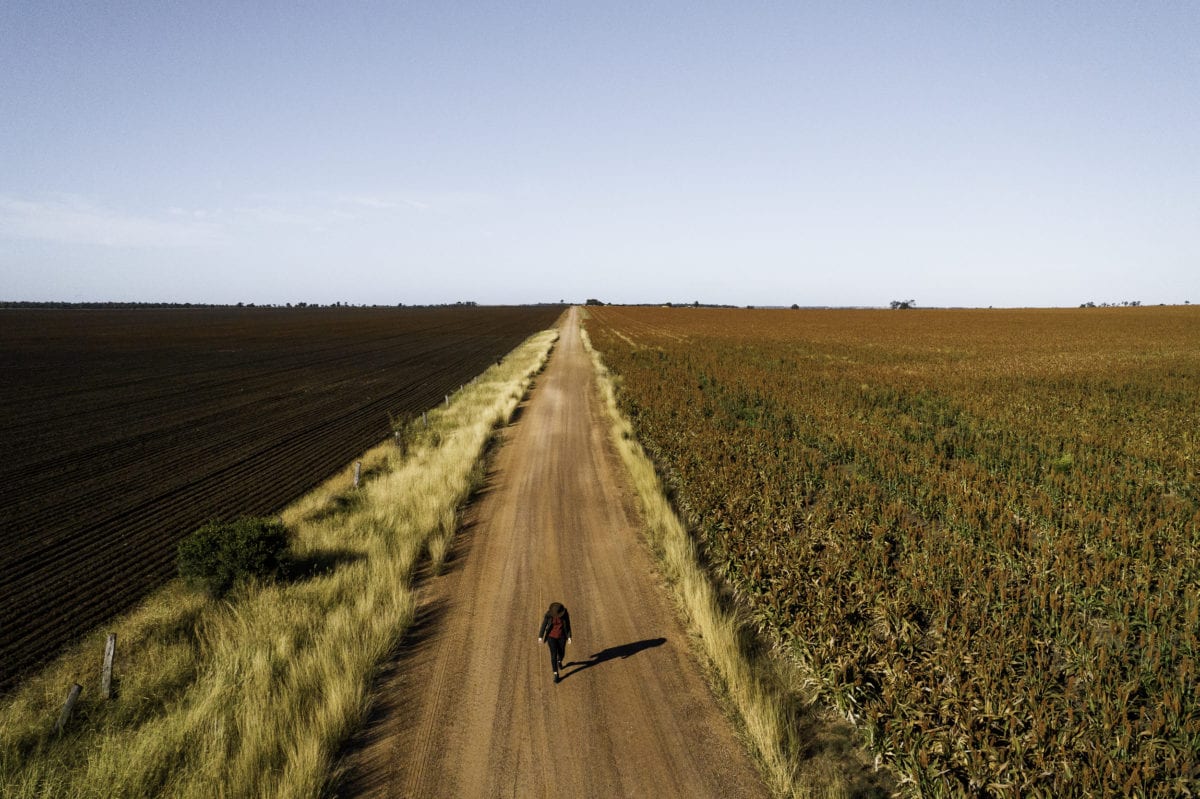 Extend your adventure through the Western Downs with a short drive from Miles to its neighbours – Dulacca, Drillham or Condamine.
Head south to Condamine (25 minutes) to spot the giant Condamine Bell. This statue pays tribute to a local family who invented the Bullfrog Bell that helps herd cattle.
Trek west through Drillham (15 minutes) and onto Dulacca (30 minutes from Miles) for sundowner at the Waterhole on the Hill aka Dulacca Hotel.