Your taste buds will come alive with flavours of the locally produced meat, fruit or vegetables, whether you dine at home or dine-in at one of the hotels and restaurants.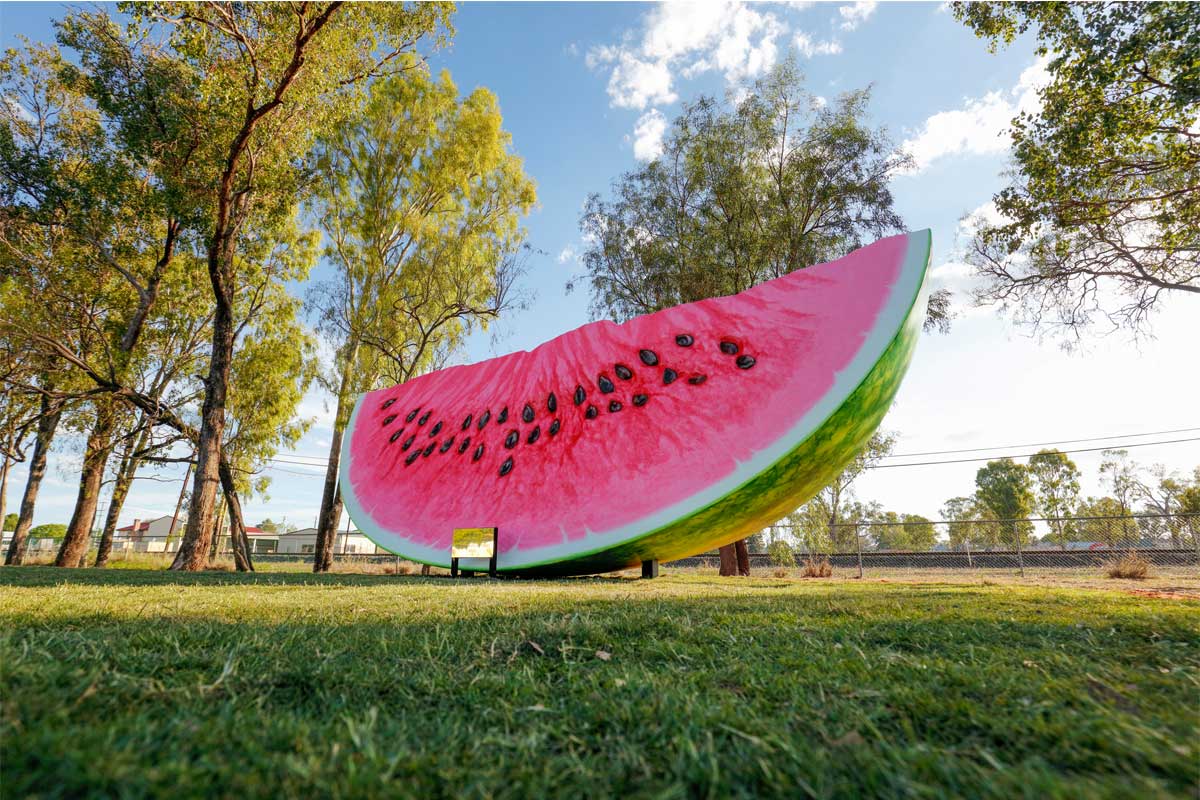 When agriculture, farming, and wheat are three of a region's top industries, you know your tastebuds are in for a good time.
Not only can you sample locally sourced cuts of meats, vegetables, and bread from a local café or restaurant in the Western Downs, you can stock up on supplies to take home with you for the ultimate souvenir.
Pack your cooler bag and get ready to shop and eat local with this guide.
Pips 'n' Cherries, Bell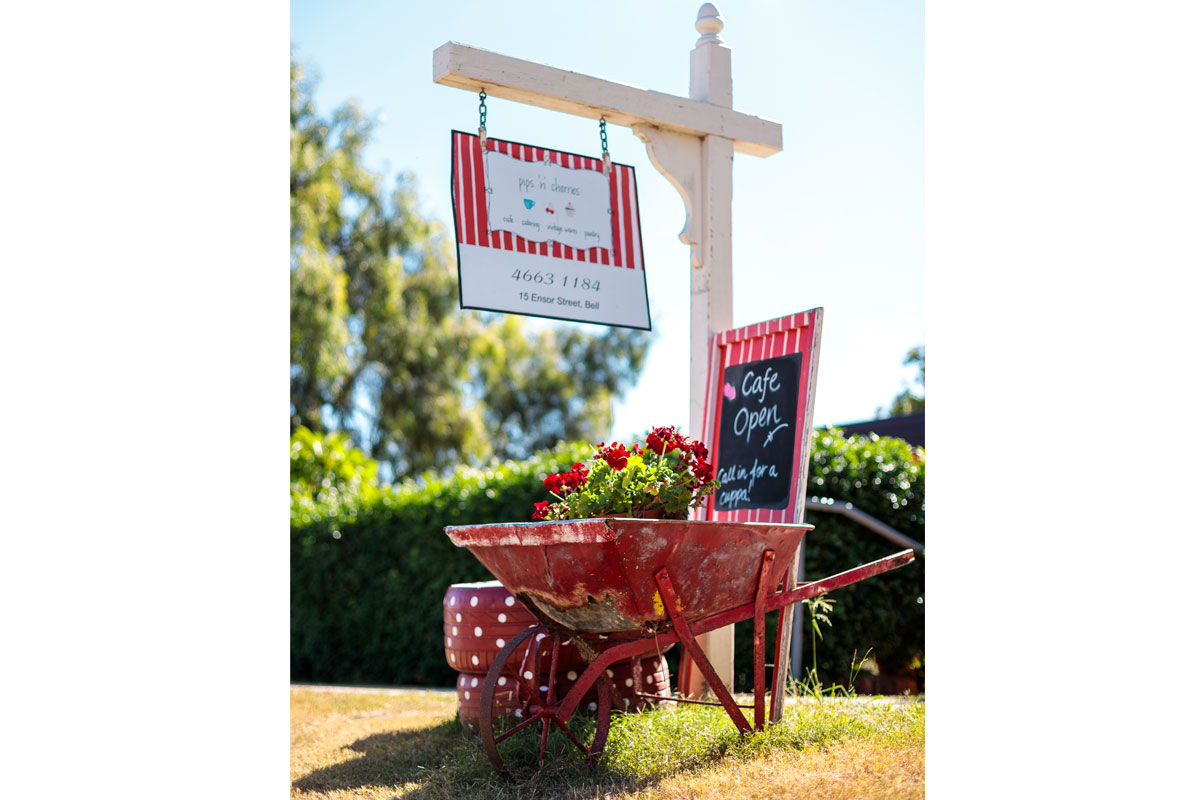 It's not just about serving local produce at Pips 'n' Cherries, it's about serving it the best way possible.
Local butchers Gordon's Meat not only smokes the bacon and ham for this Bell institution, they also ensure the kitchen team is informed and educated on the best way to cook the meat.
Rusty's Spice Market, Bell
No need to travel to Marrakesh, India, or Turkey to experience a spice market, just head to Rusty's Spice Market in Bell.
Located in one of Bell's historic buildings, The Old Bell Butcher Shop, immerse yourself in whole spices, curry blends, and condiments.
Stocking fresh produce each month, expect to find new seasonal items from around the region each time you visit.
Chinchilla Farmers Market, Chinchilla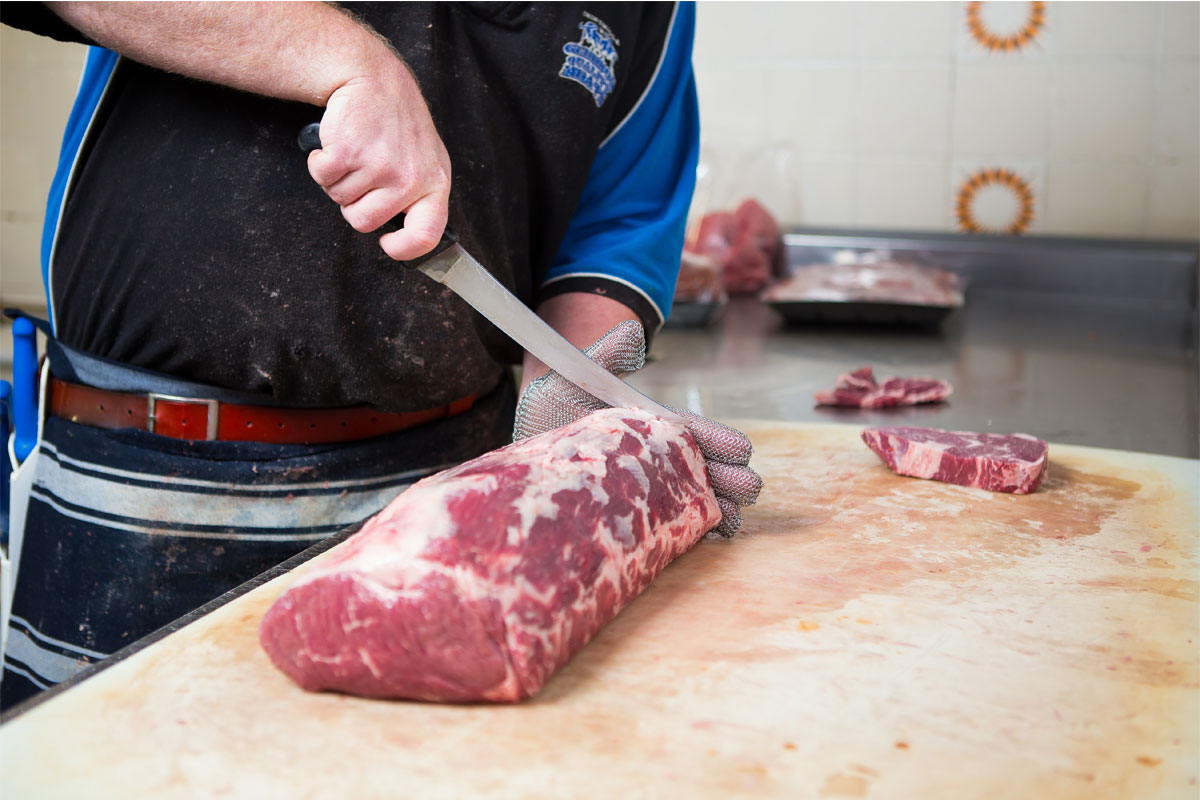 Short on time to shop local produce in the Western Downs? Head to Chinchilla Farmers Market.
This one-stop-shop has you covered with local fruit and vegetables, eggs, and meats.
Providing local restaurants, cafes, and pubs with their menu staples, there's a good chance you've already sampled their local produce while on the road.
The Commercial Hotel, Chinchilla
Want to sample beef from the award-winning Diamantina Platinum range? Stop by The Commercial Hotel in Chinchilla for a rump steak or rib fillet.
Sourced from local butcher Gleeson's Quality Meats, the beef is known for its flavour, texture, and consistency.
Culberts Meats
Looking for a butcher who sources most of their meat from their family farm in the Western Downs?
Stop by Culberts Meats in Dalby and fill your cooler bag with hormone-free beef, lamb, and free-range pork.
Burando Produce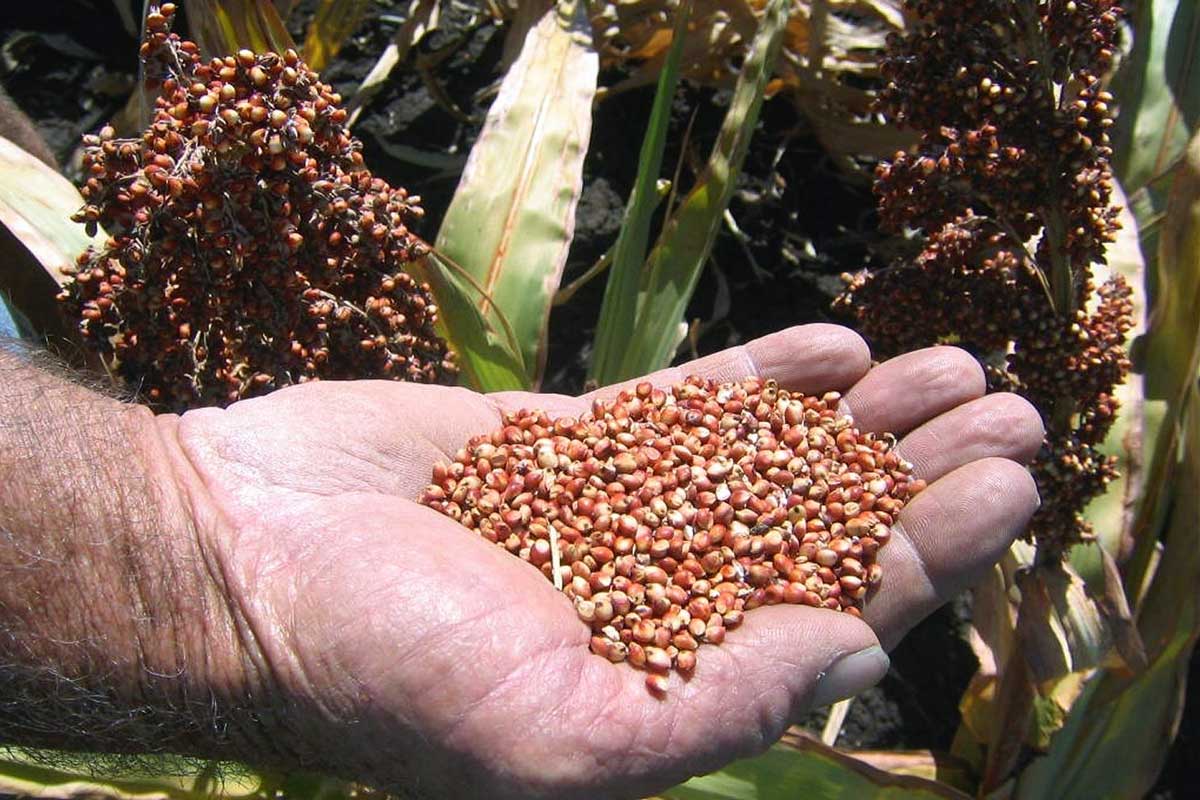 Stock up on chemical-free vegetables before you hit the Warrego Highway back to Brisbane at Burando Produce.
Sourcing carrots, beetroot, kale, and garlic (to name a few) fresh from the farm, you'll also find this Dalby local at market stalls across the Darling Downs.
FoodWorks, Tara
You'll want to plan a grocery stop in Tara to pick up the region's best lamb cutlets.
With a state-of-the-art kitchen and team of local butchers operating out of this grocery store, grab a tray of freshly packed lamb to take home or cook while on the road.
Mace's Bakery, Miles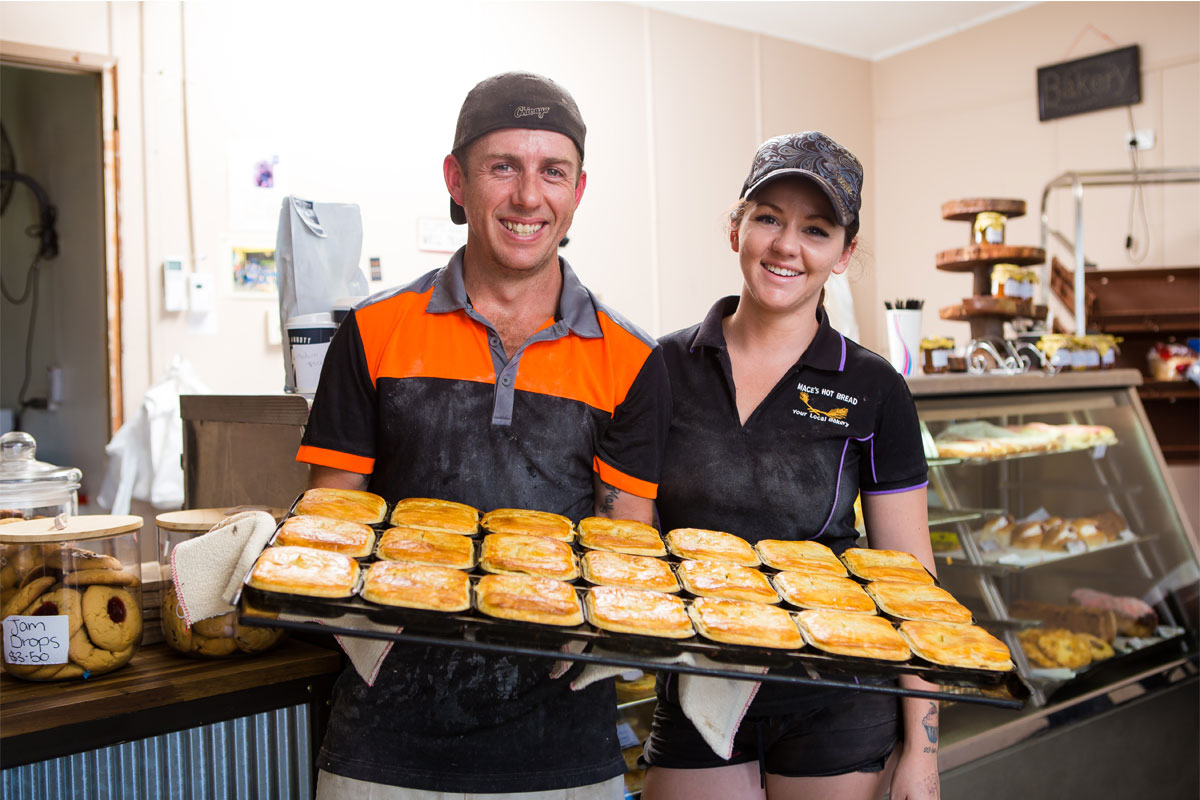 Calling all carb-lovers.
Head to Miles to sample the region's best-baked goods at Mace's Hot Bread.
Not only do they supply bread across the region to local cafes, restaurants, and grocery stores, they fuel travellers and tourists with sandwiches, pies, and sweet treats from their Pine Street bakery from 4am each day.
It's not just the soft, white bread that's local either – they use local produce from Devon Court Stud and Chaplains Butchers to fill their pies and sausage rolls.
Windsor Hotel, Miles
Want to sample the best of the region on your dinner plate? Grab a table at Windsor Hotel, Miles.
Sourcing T-bone steaks and Wagyu beef from Gleesons Quality Meats, rump and eye fillet from Devon Court Hereford stud beef, as well as "Chappo Crumb Steaks" from Chaplain Butchery – there's no shortage of local produce to try on their menu.
Nelson's Meats, Jandowae
Did you even go to Jandowae if you didn't sample an award-winning sausage from Nelson's Meats?
A local butcher for over 40 years and regular prize-winner at the regional Sausage King competition, Nelson's Meats not only supplies Jandowae locals Jampack'd Café and Exchange Hotel with beef, lamb, pork, and sausages for their menus, they also sell direct to the public.
Known for their unusual sausage flavours – think butter chicken, cracked pepper and Worcestershire, or beef and bacon – grab some to take home to impress your friends at your next BBQ.
Dulacca Hotel, Dulacca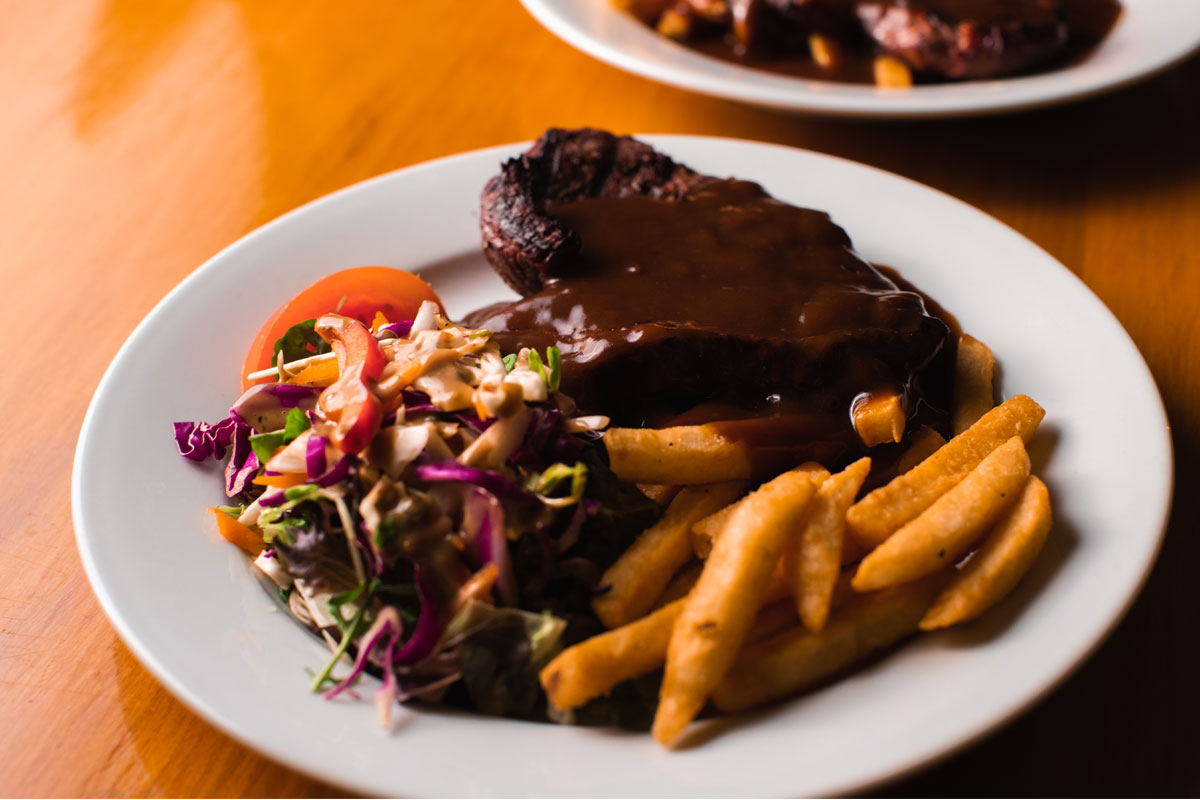 Looking for a paddock-to-plate experience in the Western Downs?
Order a steak at the Dulacca Hotel to sample MSA graded beef soured from Rangeland Quality Meats – a short 15 kilometres down the road.
Condamine Hotel, Condamine
Want the option to try beef from a number of different local producers? Grab a table at Condamine Hotel.
You'll find beef from Four Daughters Premium Black Angus near Meandarra, Chaplain Butchery in Miles, and Lillyvale Feedlot; the menu also heroes fresh fruit and vegetables from Betros Bro in Dalby.
Thinking of taking home a taste of the Western Downs?
Stop by one of these places for a take-away treat, all handmade by Western Downs locals:
Dalby Visitor Information Centre
"JimJams" jam
Raw and pre-cooked Bunya Nuts, along with Bunya Nut recipe books
"Bunya View Honey"
Ironbark and Macadamia Honey from Kaimkillenbun
"Off the Shelf" Relish, Jams and Marmalades
"JC Catering" Bunya Nut Jams, Jams and Chutneys
Chinchilla Visitor Information Centre
"JimJams" jam
"Moy's Honey" from Chinchilla
"Kay's" relish and jams
Miles Visitor Information Centre
Jams, relishes and specially oils