Whether you prefer to pitch a tent or BYO accommodation on wheels (aka a caravan), head to the Western Downs to one of our camping grounds to overnight under a canopy of twinkling lights.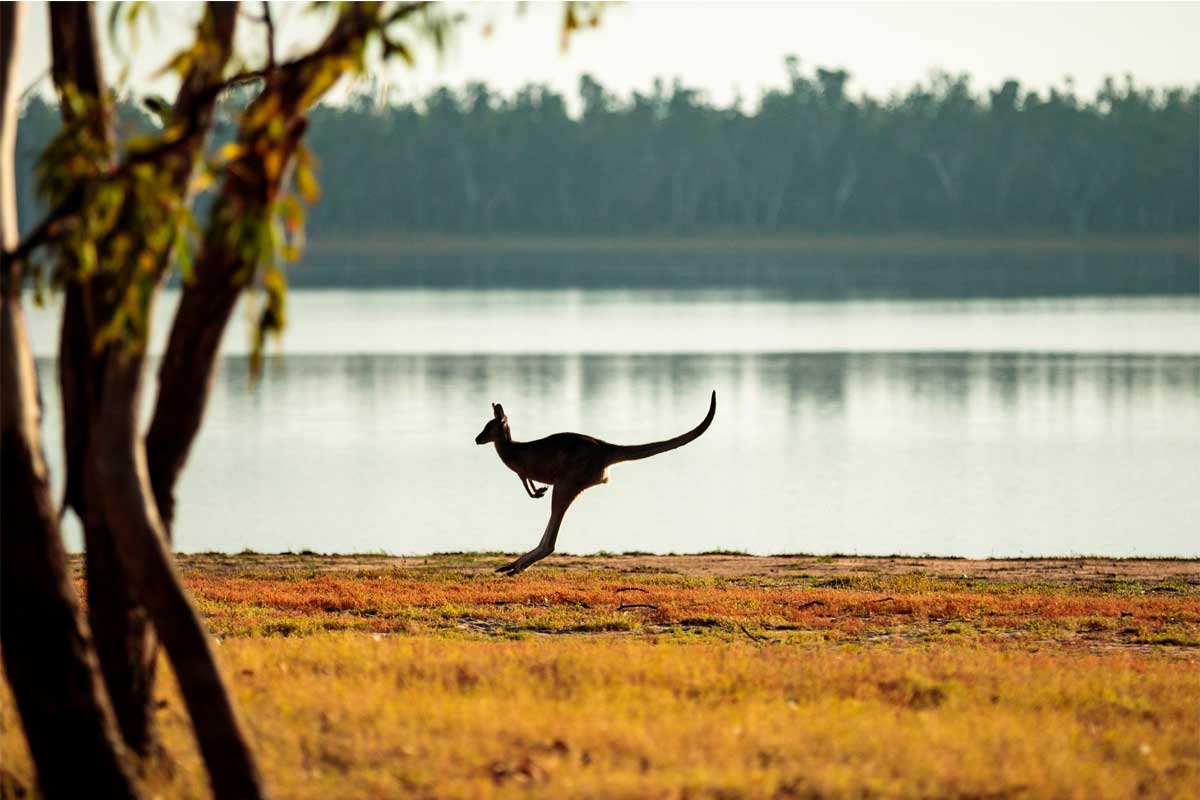 Looking for accommodation in the Western Downs that offers a million-star-rating?
With national parks, lakes, and lagoons ready to welcome you, we know you're bound to find your perfect camping-match with this guide.
Bunya Mountains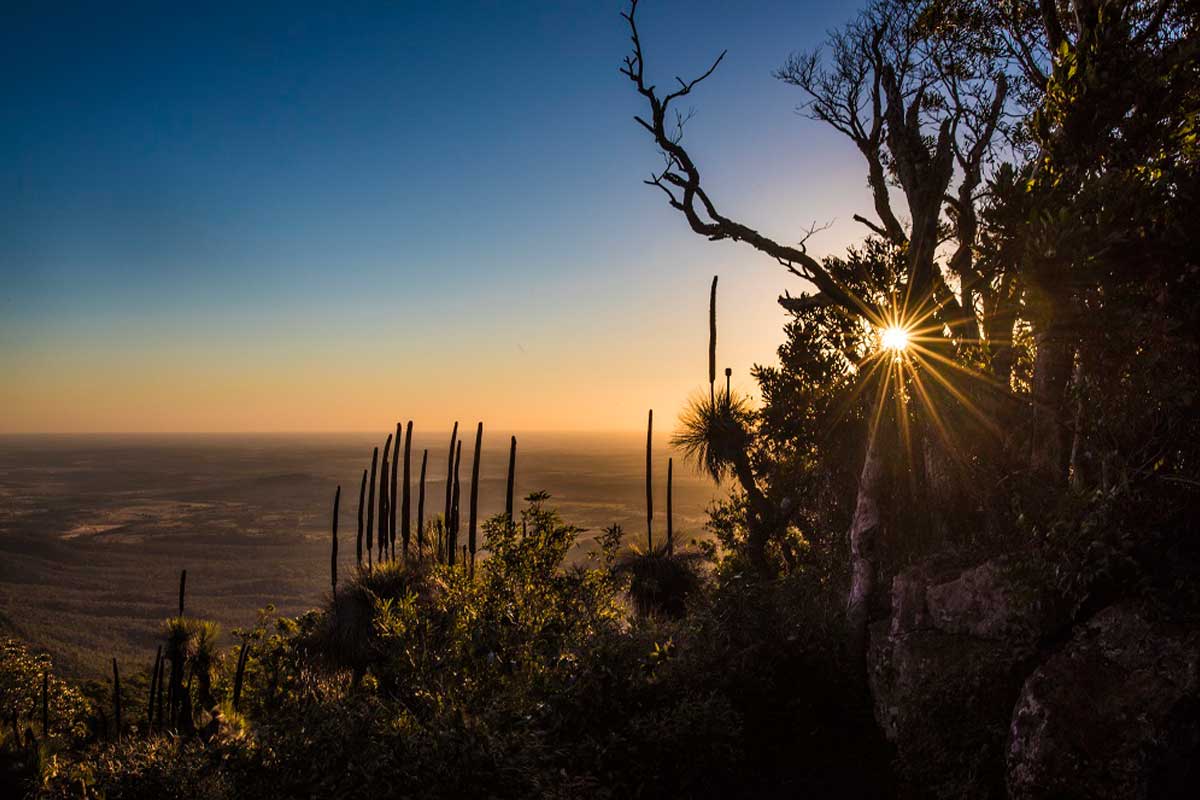 If you like to camp surrounded by nature, pitch your tent among the Bunya Mountains National Park, whose Bunya Pines date back more than 30-million-years.
With three camping areas to pitch your tent – Dandabah, Westcott or Burtons Well – there's no shortage of places to stake your claim. Psst: Dandabah is the only camping area for small caravans and campervans. Smaller vehicles, please take caution as the roads are narrow and winding. Check in with National Parks before setting off on your Bunya Mountains adventure.
Step it out along the 30 kilometres of walking trails or catch a sunrise or sunset over the Western Downs region from one of the lookout points.
Lake Broadwater, Dalby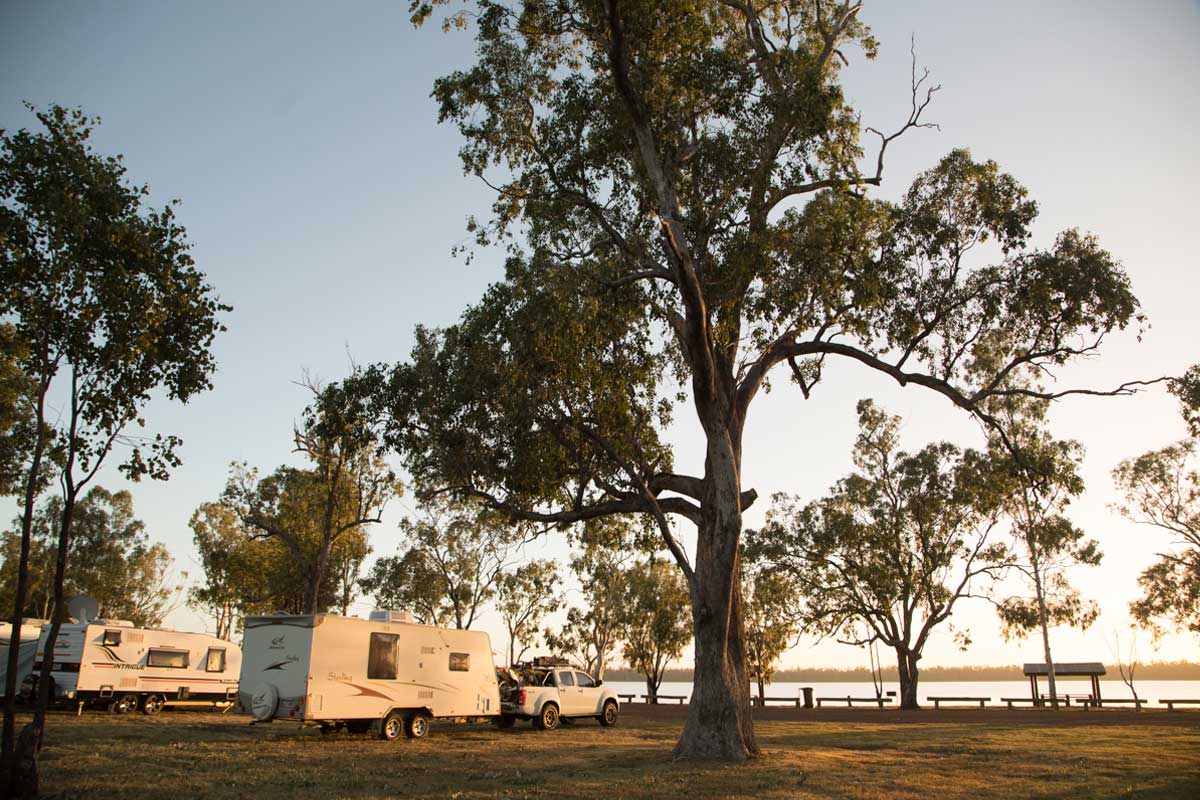 Who says camping can't include hot showers?
No need to rough it at Lake Broadwater with toilet and shower facilities along with BBQs, picnic tables and water on tap available for cooking (make sure you boil before drinking).
Not only is this the only naturally occurring freshwater lake on the Darling Downs, but the adjoining conservation park is also an important refuge for water birds and local wildlife.
Given this is a popular fishing spot, and only 30 kilometres south of Dalby, you can expect to share the water with local anglers.
Chinchilla Weir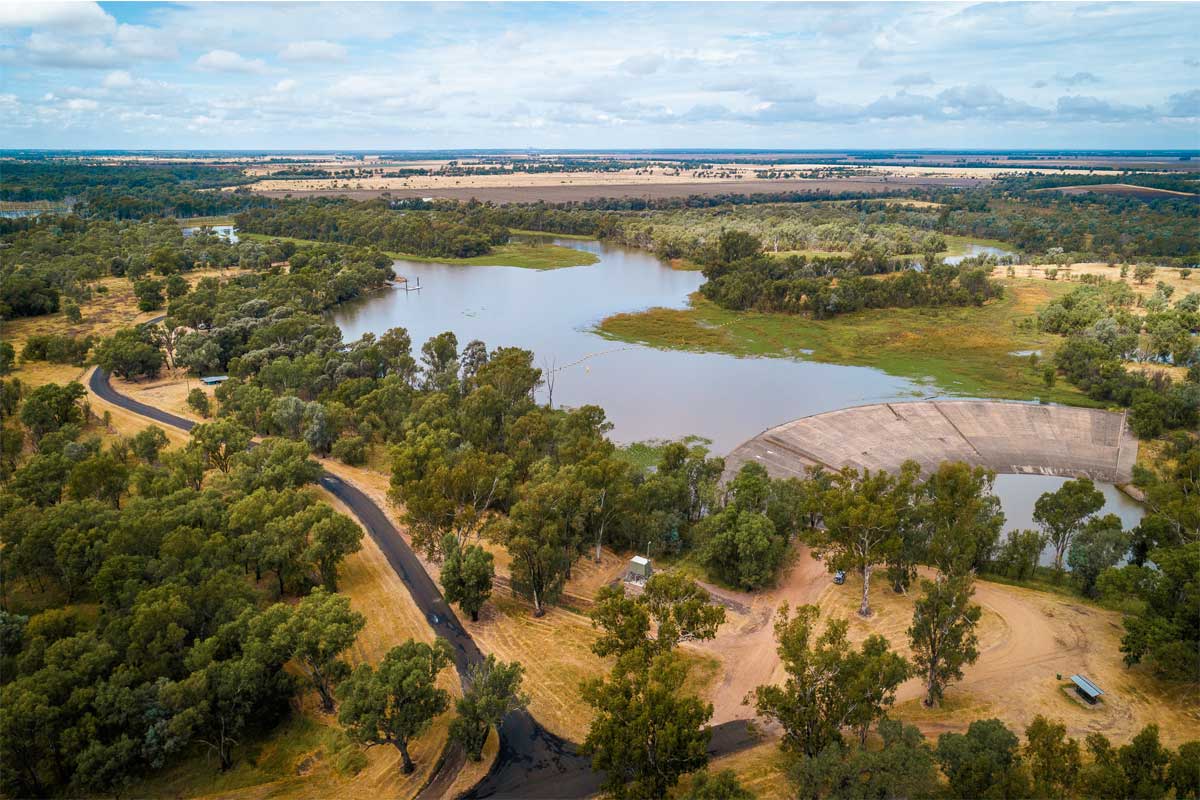 If you're searching for a camping experience within easy reach of a barista-made coffee, pitch your tent at Chinchilla Weir.
Located a short 10 kilometres south of Chinchilla on the Condamine River, Chinchilla Weir is the perfect spot for those who like to combine a night under the stars with the comforts of a pub meal rather than a camp oven a short drive away.
Camping at the weir is by a donation box (located at the Chinchilla Visitor Information Centre), and take note, there is a two-night maximum stay allowed here.
Pack the rods and reels and try your luck with local favourites Murray cod and silver perch to cook up on the BBQ or bring your bike or walking shoes to explore the bushwalking trails surrounding the weir.
Archers Crossing South, Chinchilla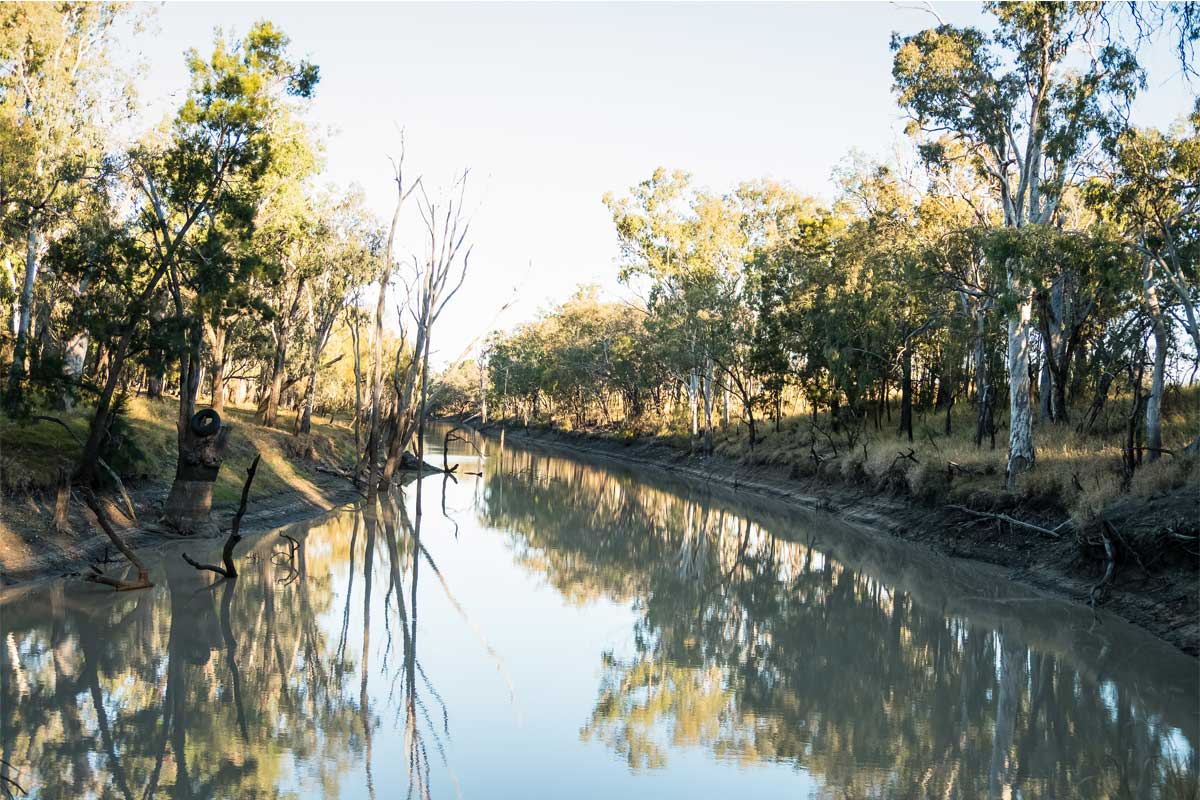 Want to bring your four-legged friend camping too? Head to Archers Crossing South in Chinchilla.
This dog-friendly camping ground on the banks of the Condamine River is a local favourite for boating, fishing, and swimming.
No need to bring the cooking equipment, there's BBQ facilities on hand and if you'd rather not DIY, the choice of pubs in town are only 24 kilometres' drive away.
Be aware there are no toilet facilities at Archers Crossing South, so be prepared for a true nature camping experience.
Caliguel Lagoon, Condamine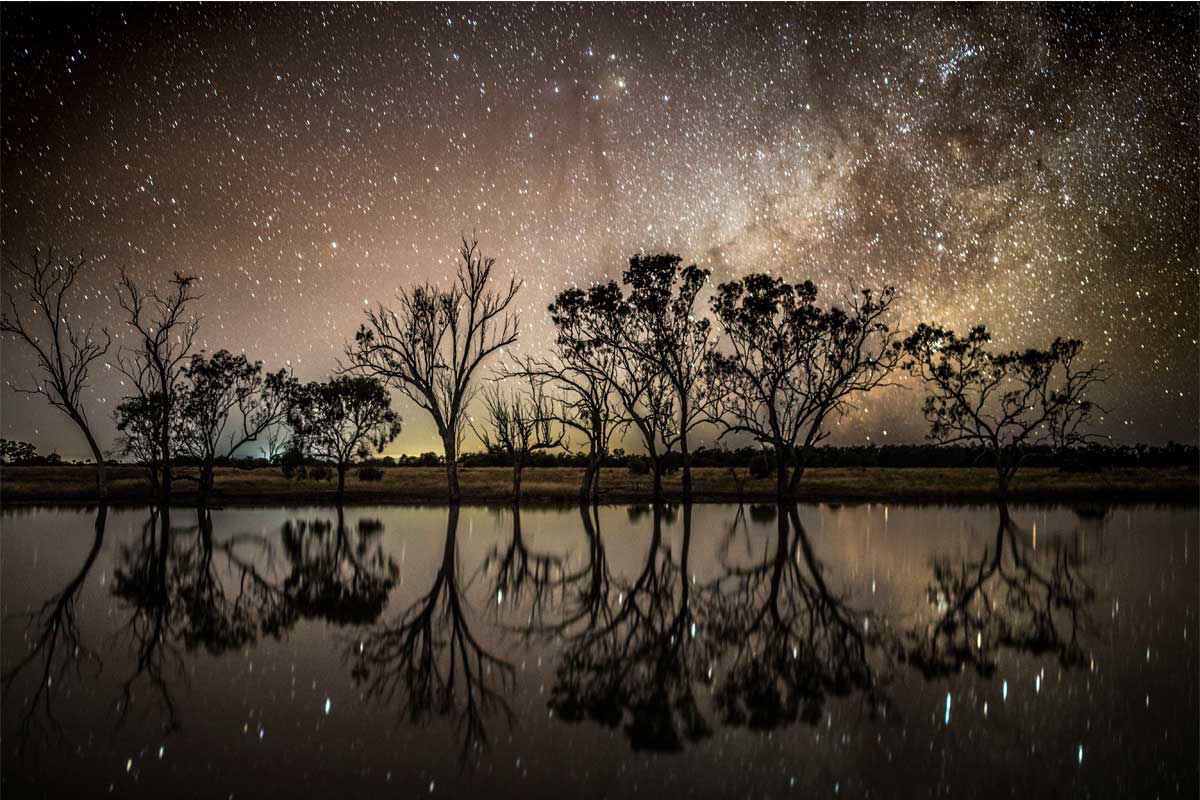 Love the smell of a wood barbeque crackling away at night? Unfurl the sleeping bag at Caliguel Lagoon.
Suitable for tents or caravans, this free bush campground provides camping luxuries of toilets (but cold showers).
If you want a break from cooking during your camping trip, Condamine is only a short seven kilometres down the road (read: pub meal and a coldie at the local hotel).
With access to a boat ramp, BYO boat or kayak to enjoy the lagoon from the water.
Gil Weir, Miles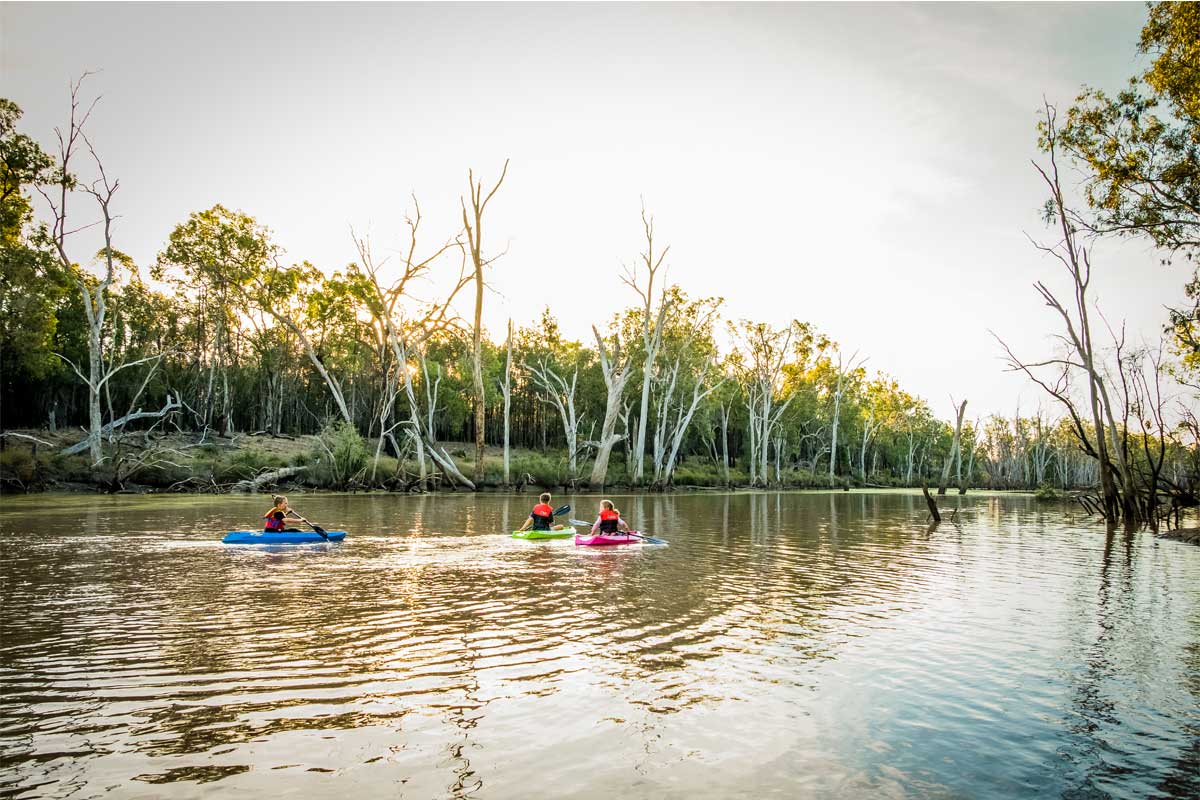 Calling all anglers.
If camping and fishing are your two favourite activities, head to Gil Weir Miles.
While you'll need a fishing licence to cast off, the weir is packed with local favourites golden perch and Murray cod.
Set up camp under the shade of pine and gum trees just six kilometres from Miles, with toilets, woodfired barbeques and picnic tables available at this free bush camping ground.
If you're planning on dropping the fishing line from your boat, make sure its engine is no more than 10 horsepower to be allowed to launch from the boat ramp.
Brigalow Creek, Meandarra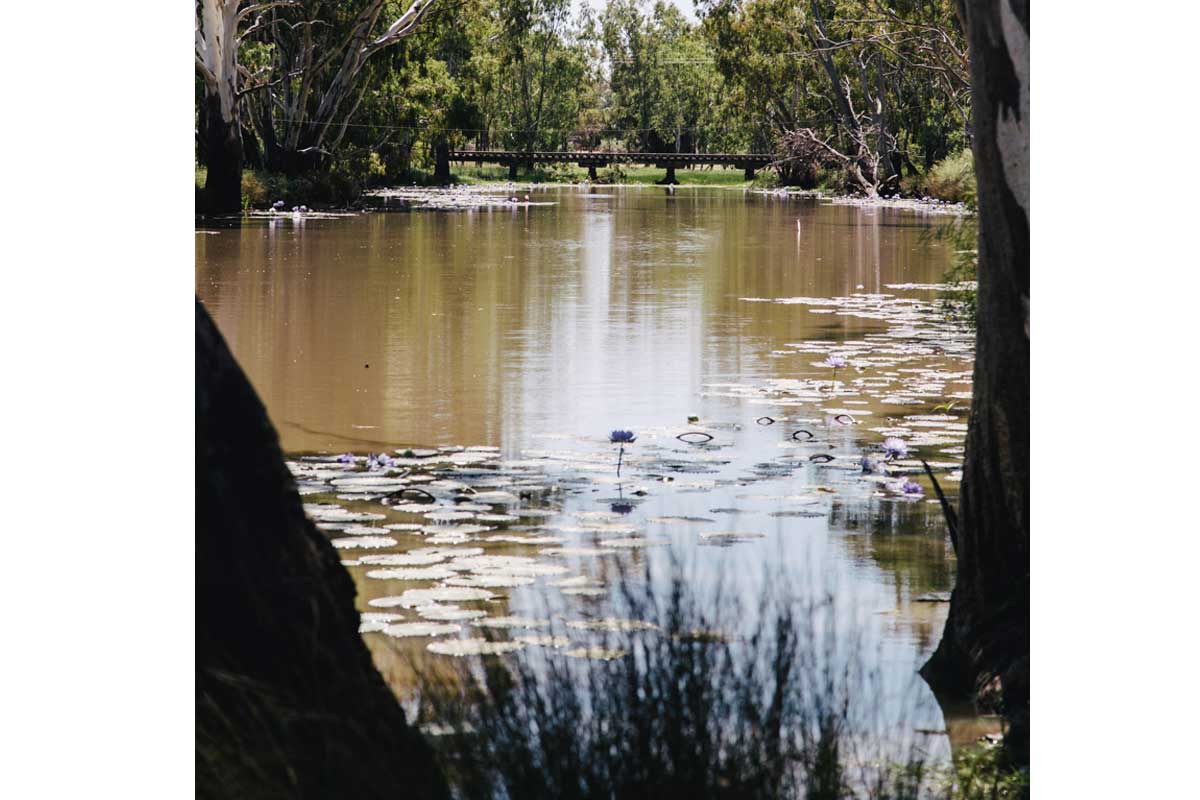 If you're the kind of camper who needs 230 volts, drop your tent pegs at Brigalow Creek.
Providing both powered and non-powered sites, along with toilet and shower facilities, there's no need to rough it while relaxing at this Meandarra creek bed.
A popular spot for golden perch and jewfish, don't forget to pack your tackle box too.
If you're planning to camp during autumn, get ready to fill your camera roll with photos of rare water lilies that cover the water's surface.
Waterloo Plains Environmental Park, Wandoan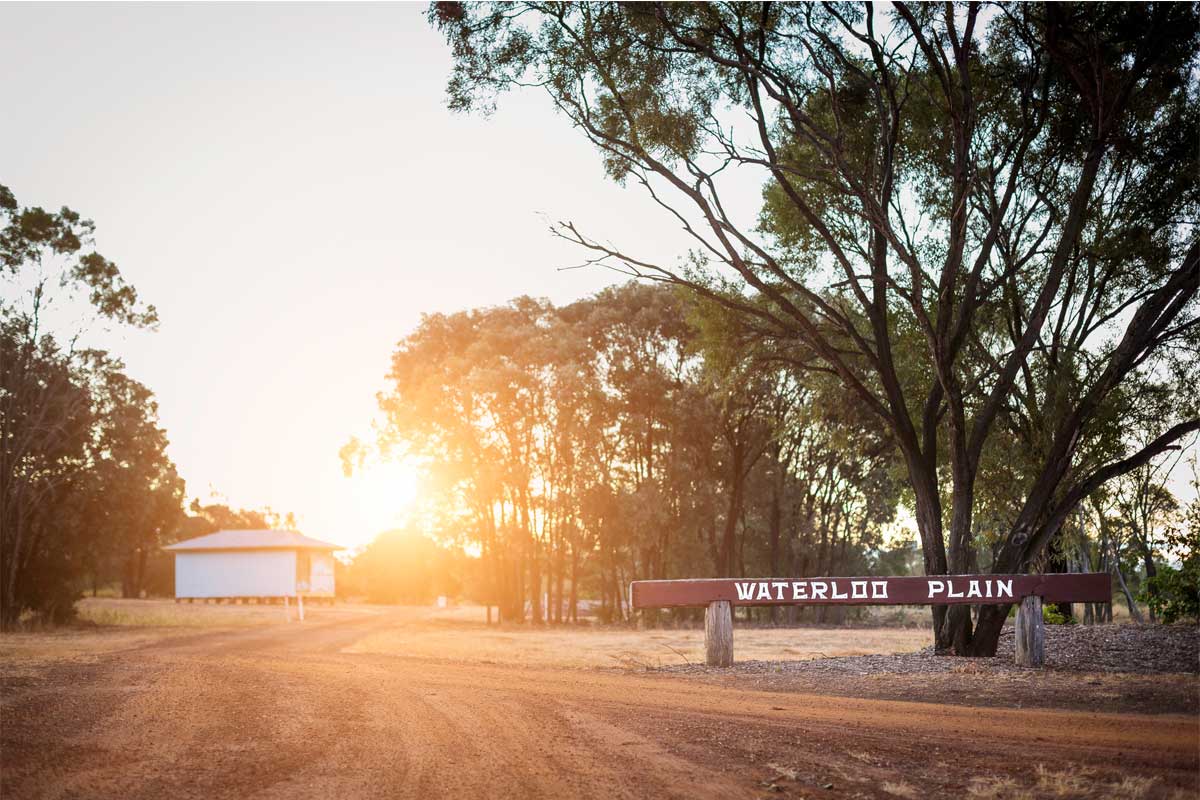 Birdwatchers – we've got the perfect camping ground for you.
Stake your claim at Wandoan's 11-hectare Waterloo Plains Environmental Park and settle into the sound of native calls.
Bursting with birdlife and native wildlife, this wetlands park offers a self-guided heritage trail with walkways and bridges to the parks best birdwatching spots.
Suitable for tents and caravans, this camping ground comes complete with toilets, hot showers and picnic areas with rubbish disposal on site.
Tara Lagoon, Tara
If you find yourself in our south-west corner, unpack the camping chairs at Tara Lagoon.
Located close to Settlers Park, take a stroll along the Walk of Remembrance to see 49 Eucalyptus Maculatus or Spotted Gums dedicated to servicemen and women from the Tara region during your stay.
Try your luck catching dinner to cook on the wood barbeques, with freshwater cod, perch, or yellow belly local to the lagoon.
Providing powered sites and short-term camping along with hot showers, toilets and picnic tables, Tara Lagoon serves up comfort in spades.
Westmar Rest Area, Westmar
While Westmar may be short on camping luxuries – like barbeques and shower facilities – it makes up for with friendly residents to get to know (aka colourful parrots).
Be prepared to share this rest stop with feathered locals as you set up camp.
Keep in mind this rest area is recommended for short-term stays only, so use it to break up your journey when travelling through the Western Downs.
Located at the crossroads of the Moonie Highway and the Meandarra Talwood Road – 45 minutes drive west from Moonie, keep this rest stop on your radar next time you're passing through.