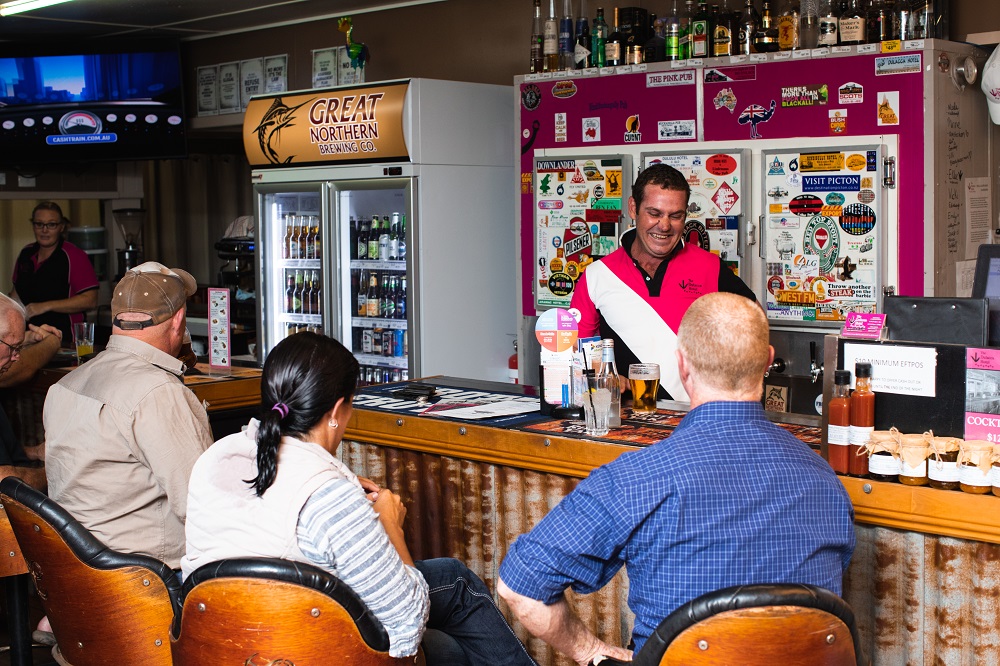 Who doesn't love a bit of country hospitality when it's paired with a schooey and a schnitty?
Get to know the town beyond the guidebook by pulling up a barstool and having a yarn with the publicans and locals at a good ol' country pub.
While the bigger towns in the Western Downs region may have multiple pubs to choose from, some of the smaller towns often just have one or two pubs, where you're guaranteed to meet a local and have a yarn.
So, get ready for a coldie and a 'counter-y' at these classic pubs around the Western Downs.
1. The Bun Pub, Kaimkillenbun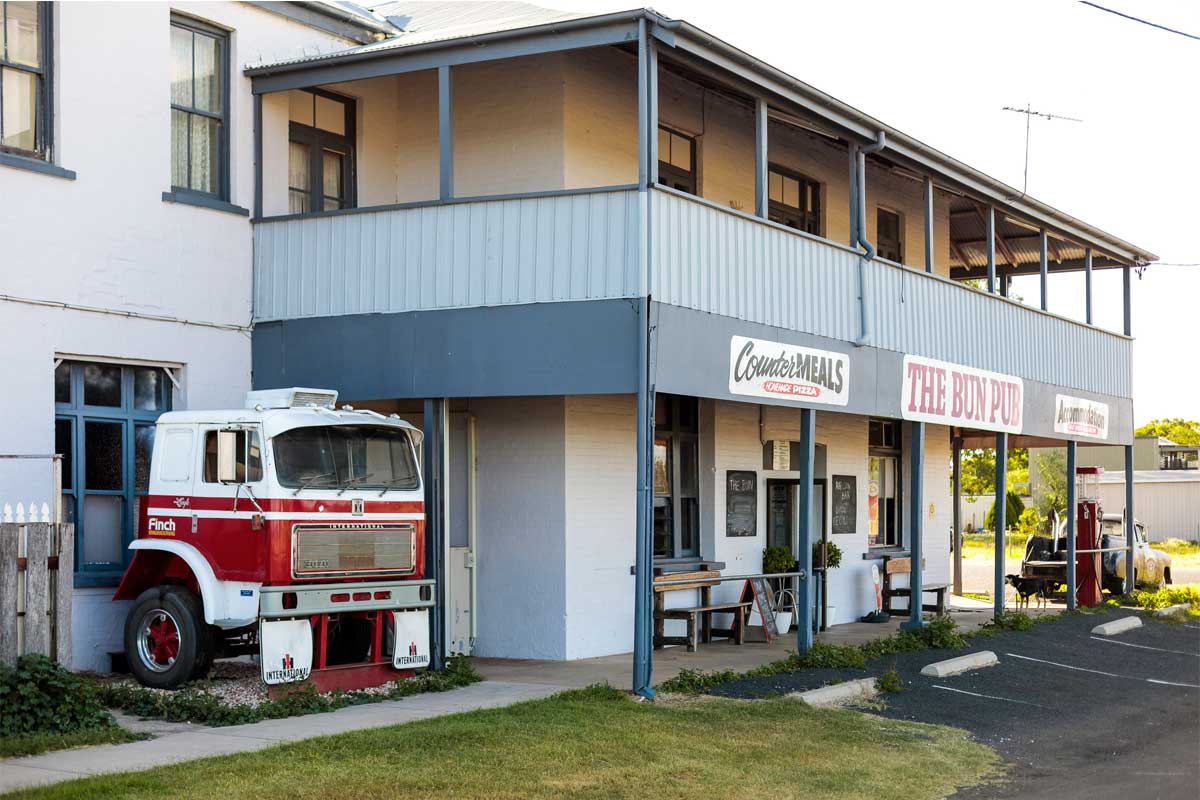 Not sure how to pronounce this town's name? Pull up a barstool and ask one of the locals.
Known as 'The Bun', this pub serves up counter meals, cold beers, and upstairs accommodation with a side of history on the Western Downs.
Over 100 years old, this pub is home to an important piece of military memorabilia, including signatures from WWI diggers. 

It's also had a brush with Hollywood fame when it was used as the set for the 1983 movie Chase Through the Night featuring Nicole Kidman.
2. Jandowae Hotel Motel, Jandowae
Before you settle into a barstool and order a schooner, it's important to learn the lingo about the town's pub system.
Jandowae was previously home to three pubs, nicknamed "Top Pub", "Middle Pub" and "Bottom Pub".
The Jandowae Hotel Motel (aka the "Bottom Pub") is one of the two remaining pubs, located on the corner of Dalby and High Street – look out for the painted muralled walls and posts on the outside.
While the pub serves up tasty counter meals and provides pub-style accommodation upstairs, it's the local hotspot and is the place to be for events like Australia Day celebrations or NRL Grand Final nights.
3. Exchange Hotel, Jandowae
If you've got room for two pub stops on your visit to Jandowae, stop by the Exchange Hotel (aka the "Middle Pub").
Serving meats from award-winning butcher and Jandowae local, Nelson's Meats, this is the spot to grab a local rump or rib-eye and kick back in the beer garden.
4. Warra Hotel, Warra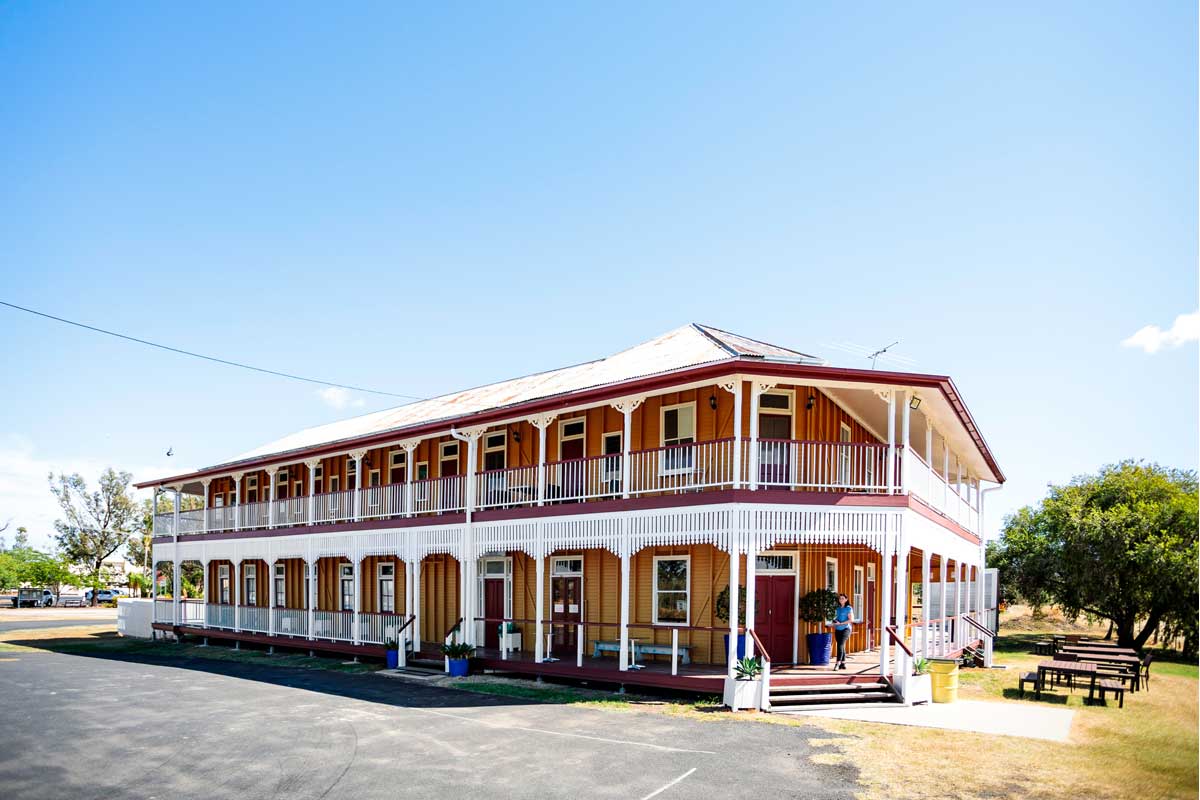 With walls covered in historical photographs, this iconic watering hole serves up more than just cold beer on tap.
Trading since 1876, the Warra Hotel has been sharing local history with visitors through stories and images for over one hundred years.
Located along the Warrego Highway, less than 50km north of Dalby, this Queenslander style country pub is a must stop.
5. Commercial Hotel, Tara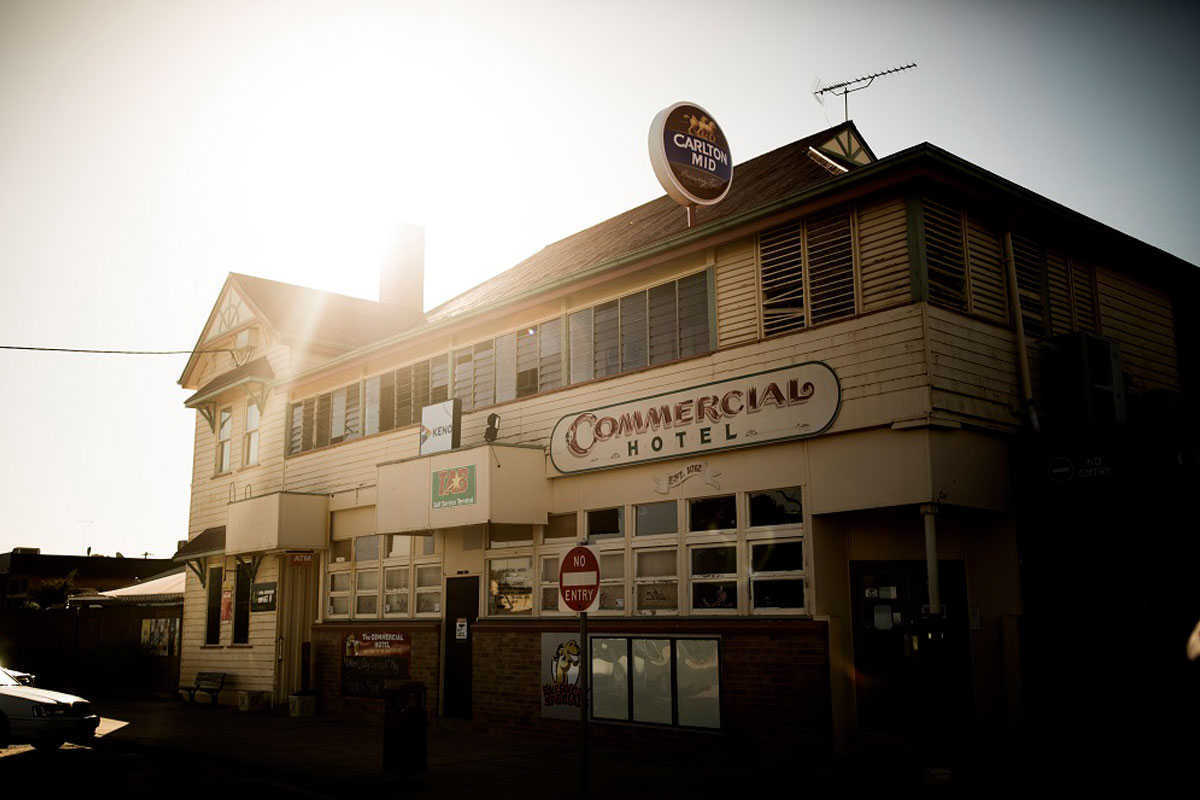 West of Dalby and south of Wandoan, you'll find yourself in Tara so be sure to stop and check out the Commercial Hotel. With a beer garden, dining room, public bar and gaming options, this hotel built in 1912 is more than just a pretty façade, promising the coldest beer and good old fashioned country service. It also offers clean and tidy hotel rooms and is a friendly place to stop and stay the night.
Make sure you take a moment to appreciate the paintings hanging in the pub by Australian artist Hugh Sawrey. Learn more about the paintings here.
6. Condamine Bell Hotel, Condamine
Wrap up a day fishing, boating or waterskiing with a coldie at Condamine Bell Hotel.
Located a short seven kilometres from the Caliguel Lagoon, 'The Condy' makes for the perfect stop once you've packed away your rod and reels.
Tuck into a steak burger (a local favourite) and look over old photos in the dining room from when this pub went underwater in the 2011 floods.
Walk off dinner with a stroll to Bell Park to see the Bullfrog Bell Monument dedicated to Samuel William Jones – the inventor of the Condamine Bell.
Looking for accommodation? The hotel offers air-conditioned motel units with views out to the Condamine River.
7. Juandah Hotel Motel, Wandoan
Learn about this pub's namesake with a visit to Juandah Hotel.
Keeping the townships original name from 1853, this pub serves up a history lesson with every pot of lager.
With three kinds of schnitzels on the menu, along with steaks, pizza, pasta and seafood – you'll want to plan your visit around lunch or dinnertime.
Need somewhere to overnight? Juandah Hotel Motel also offers air-conditioned rooms (with ensuites!) so check-in for the night to prepare for your next day's adventure.
8. Dulacca Hotel – "The Pink Pub", Dulacca
While Dulacca Hotel might be the most western pub in the Western Downs region, this watering hole is hard to miss.
Nicknamed "The Pink Pub" the locals and staff are as warm as its exterior colour.
Originally built in 1908, this restored pub now offers visitors an alfresco deck for dining – serving lunch and dinner daily.
Forget drawing straws for designated driver – just pitch a tent in the adjacent camping ground or settle into one of the upstairs rooms.
9. Royal Hotel, Meandarra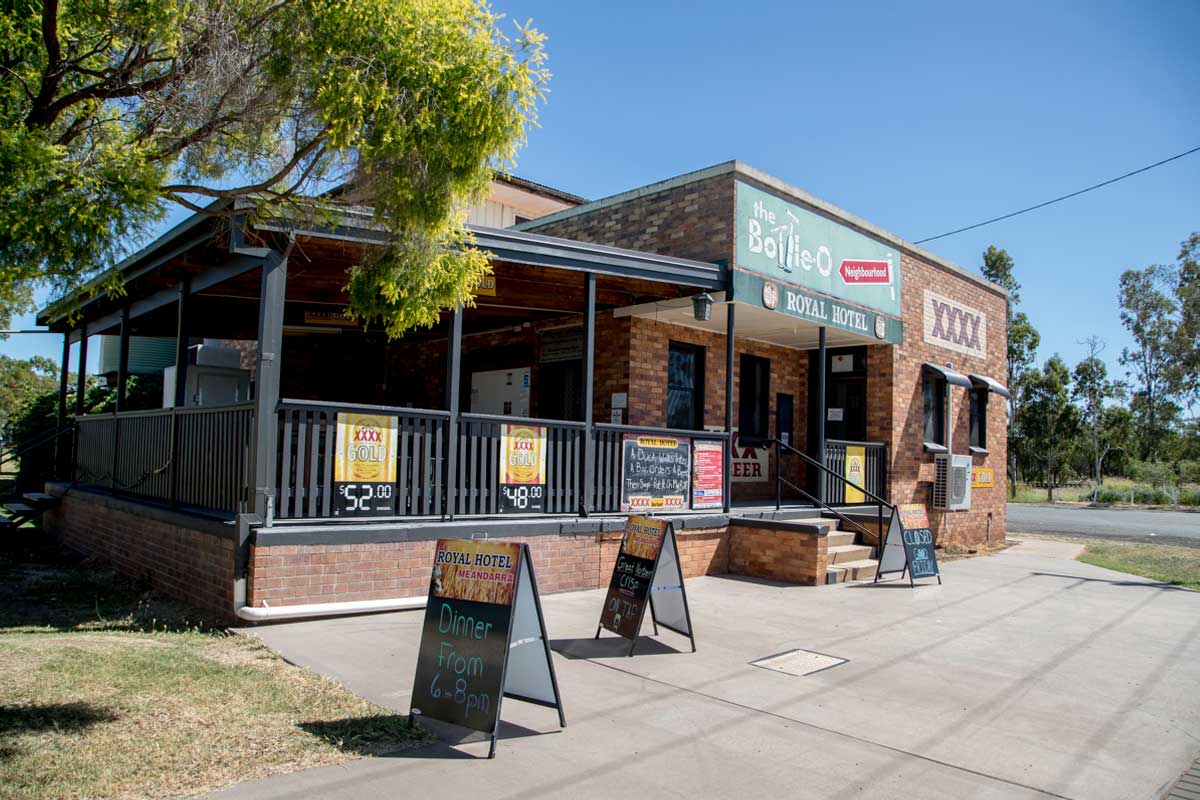 While the Royal Hotel has endured many flood disasters over the years, the pub has been given a fresh lease on life with new owners in 2018.
Order a coldie and a burger and ask new owners Jason and Leanne about their tree change experience from south of the border. Or enjoy your meal as a family outside near the kids' area and pool table.
With 12 air-conditioned pub rooms, along with a two-bedroom family room with private bathroom, plan your overnight stop in Meandarra while travelling through the Western Downs.
10. Moonie Crossroads Hotel, Moonie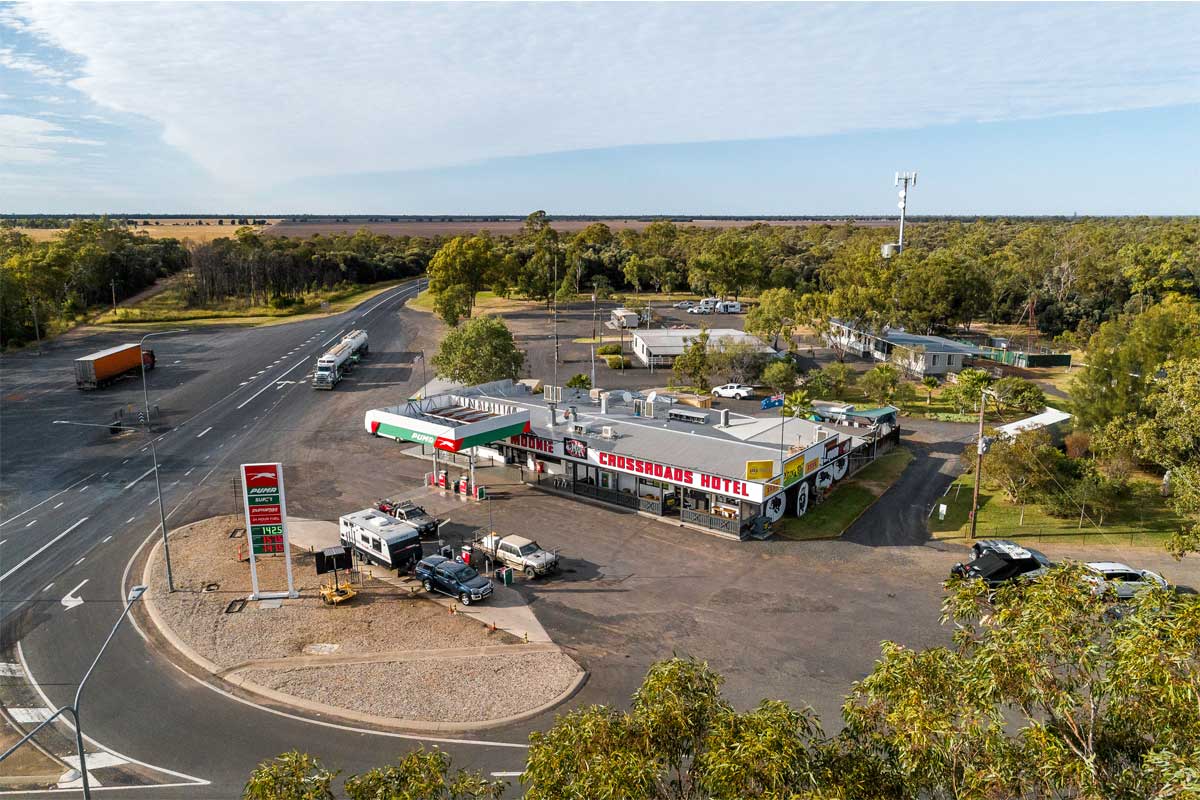 Name another pub where you can top up your petrol, order a juicy T-bone steak, and get a selfie with a giant yabbie? We'll wait.
Comprised of a service station, pub, hotel, caravan park, and the Big Yabbie (across the road) the Moonie Crossroads Hotel is quite literally your one-stop shop for the ultimate unique Aussie experience
One for collectors and art lovers too, the pub has mural-covered walls depicting the history of Moonie along with a gallery of paintings by artist, John Murray.
With recently renovated hotel rooms (think white, fresh linen) – make sure you plan your overnight stay in Moonie.

Have you been to one of these pubs? Come check us out at Experience Western Downs on Instagram and Facebook and let us know which pub is your favourite!