It's often said that good things come in small packages and the quaint country town, Chinchilla, is no exception.
Point your bonnet 300km west of Brisbane, and find fishing, festivals, native flora and fauna, arts, history, and culture bursting from the town's 81,000m2 seams.
If you're taking the road less travelled this summer, take inspiration from these 8 things to do in Chinchilla.
Get messy at the Melon Festival
When your town's responsible for supplying over a quarter of the country's melons (watermelons that is), it makes sense you'd dedicate an entire festival to the gloriously red and juicy fruit. Every second February, the streets of Chinchilla come alive as thousands of cheery patrons flock to celebrate the town's title as 'Melon Capital' in a week of melon-themed festivities. Think skiing, slip 'n slides, market stalls and street parades, all with a quirky melon twist. Align your summer vacay with this festival for a truly authentic and quirky country experience.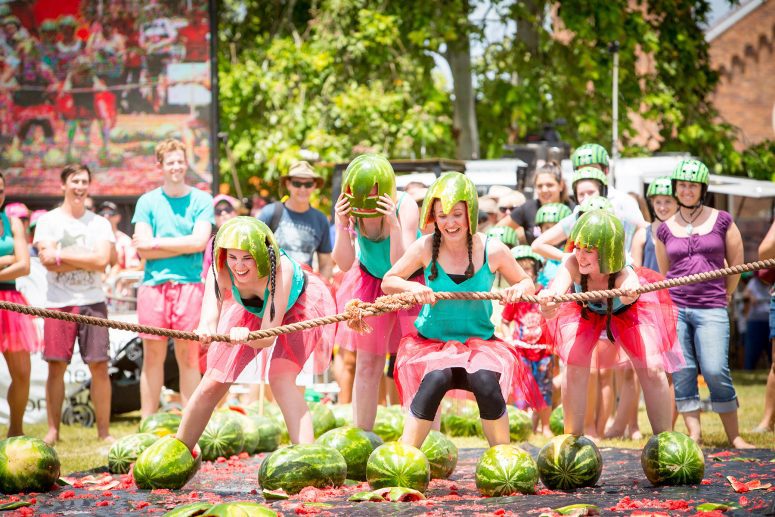 Enjoy family fun at the Chinchilla Botanic Parkland
Sometimes, the best part about a holiday is the change of scenery. For a gorgeous green escape without having to leave town, head to the Chinchilla Botanic Parkland.
Spanning 4.2ha through the heart of Chinchilla, the parkland is teeming with native flora and fauna and Aboriginal cultural history, leaving plenty for families to explore while having fun in the sun.
Pack a picnic blanket, your bathers, and a ball, and enjoy a picnic on the perfectly manicured lawns, a splash in the watermelon-themed waterplay area or a wander along the nearby creek – all in a day's play.
Head indoors to Lapunyah Art Gallery
Escape the heat by heading indoors for a free cultural experience in the heart of Chinchilla at the Lapunyah Art Gallery.
Managed entirely by a team of dedicated volunteers, this gallery houses an extensive portfolio of artistry and has an ever-changing program of thought-provoking exhibitions which hero local talent.
Splash into summer at the Chinchilla Weir
Head 9km south-west of Chinchilla and you'll stumble across the town's largest freshwater playground – the Chinchilla Weir. This longstanding recreational hub is the kind of spot you can easily spend the day relaxing at, making it the ideal destination to add to your summer itinerary.
Visit for the day and enjoy an array of outdoor activities including fishing, water sports, bushwalking, and bike riding, or visit the Chinchilla Visitor Information Centre and drop a donation in the box to enjoy overnight camping so you can simply rinse, rest and repeat.
Don't forget to stop by Clover Hill Meats and pick up quality local meats to cook up an epic summer BBQ to round off your outdoor adventure.
Note: Permits are required to fish in this area and activity cannot occur within 200m either side of the weir wall.
Cool off with a coldie
It's almost a scientifically proven fact that the best way to spend an afternoon in the sizzling summer months is to find somewhere comfortable to park before cooling off with a coldie. The Club Hotel isn't just the local watering hole, it's also one of Chinchilla's oldest pubs. You won't be leaving hungry, with a menu featuring succulent steaks, schnitzels, salads, and schooners all with a side of good ol' fashioned country hospitality.
The Commercial Hotel and Chinchilla RSL are also great venues to sit back, relax and wrap up a day of outdoor adventures.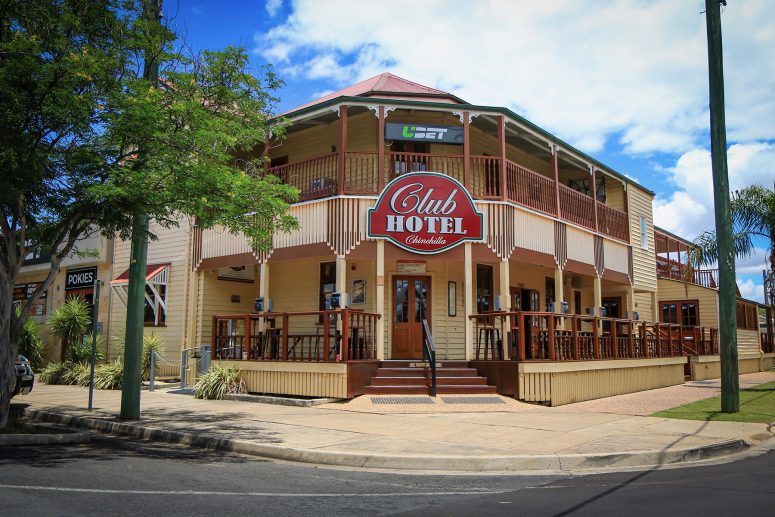 Camp in true country style
Fresh air, chirping birds and a canopy of twinkling stars – there's no better place to camp than in the country. Luckily, there's no shortage of places to stake your claim in Chinchilla, with parks, farms and lagoons all waiting for you to make your home base.
For a family-friendly stay that packs a punch, book Rubern Lagoons. The kids will be entertained for hours, making use of the free paddle boards, row boats and canoes and making friends with the kangaroos and koalas who often make an appearance on site.
Surrounded by bush, Charley's Creek Camping and Chinchilla Country Camping are also great options if you're looking for a quiet country retreat. Both are pet-friendly and suitable for camping in any style you prefer.
Step it out along Charley's Creek
Stay cool while hitting your daily step goal by pounding the pavement of Charley's Creek walkway. This creek-side pavement hugs the banks of the creek, displaying some of Chinchilla's beautiful landscapes and wildlife.
Take the kids and challenge them to a game of eye-spy, with turtles, lizards, echidnas and a variety of birds all likely to pop out for a play. You could even make a whole afternoon out of it and refuel post-walk with a farm-to-table smoked wagyu beef meal that's offered every Friday at Charley's Creek Campgrounds.
Go fossicking
One of the best parts about travelling is the souvenirs you bring home, so why not get your hands dirty and dig for one you've sourced yourself? In what is affectionately known at the Chinchilla Red, try your hand in fossicking for petrified wood that dates back to the Jurassic era, some 140 to 180 million years ago.
You'll need a permit to play archaeologist, which can be bought for a small cost from the Chinchilla Visitor Information Centre. Be sure to save a few extra pennies to pick up some local, handmade, and farm-fresh goodies while you're here too!