While the art galleries in the Western Downs region may hang the works of some of Australia's best-known artists, this region's connection with arts and culture goes so much further.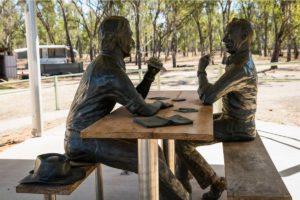 This region is the birthplace of more than one famous bush artist with many famous artists calling the Western Downs home.
If you find yourself experiencing the Western Downs, don your art critic hat and discover these galleries and outdoor sculptures for yourself on the Arts and Culture Trail.
1. Biblical Gardens & Catholic Church
Calling all Gardening Australia lovers, Bell's Biblical Garden is blooming.
While some botanic gardens focus on local fauna and flora, the garden of Our Lady Help of Christian Catholic Church in Bell chose to sow types of trees and plants of a different kind, only those mentioned in the bible.
This garden isn't just for green thumbs, either. You'll find artworks created from recycled timber, steel, barbed wire, and mosaics, curated under the guidance of Megg Cullen, a Bell local for nearly 30 years.
2. Bluebells Art Gallery, Bell
While you won't see any artwork from international artists at Bluebells Art Gallery, you will see the brushstrokes from members and friends of the Bell Art Group – a Bell institution for over 50 years.
Located in the Bell Bunya Community Centre – wander through the gallery to see the latest exhibition, shop the handcrafted gifts and skincare products, or grab a coffee and wander through the landscaped memorial rose garden and community vegetable garden.
If you've timed your visit right, the Community Centre volunteers offer fresh scones or lunch during the week.
3. Dingo sculpture, Jandowae
Did you know the Western Downs is home to the longest structure in the world?
Erected in 1948 to protect local sheep flocks, the original Dingo Barrier Fence stretched more than 5,000 kilometres from Jimbour to the Nullarbor Plains.
Stop by to see a replica fence and grab a snap with the two-metre-high dingo statue, created by Scottish artist Andy Scott.
4. The Big Melon, Chinchilla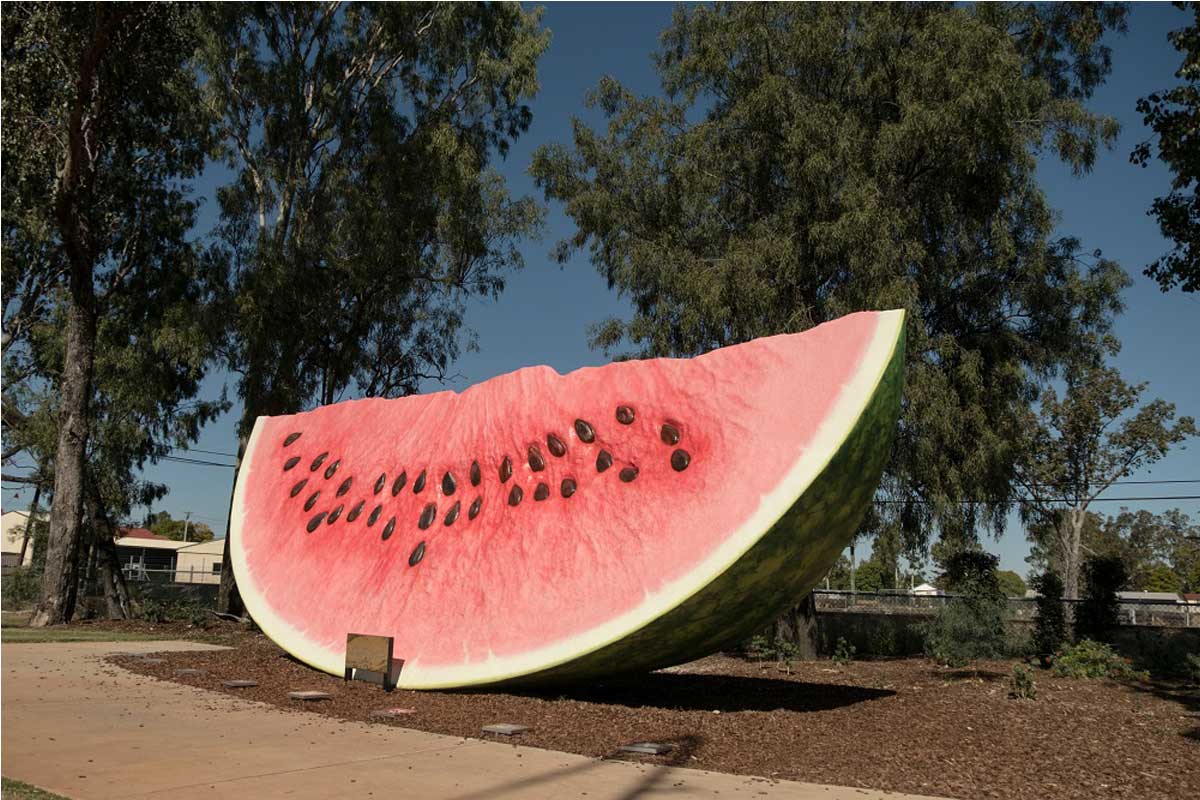 Did you even travel to the Western Downs if you didn't snap a photo in front of the 'Big Watermelon'?
Winning the wotif.com 'next big thing' competition in 2018, Chinchilla pipped the competition and is now home to a nine-metre slice of watermelon aka public art.
Located next to the Visitor Information Centre on the Warrego Highway, make sure you pull over for your next Instagrammable moment.
5. Lapunyah Art Gallery, Chinchilla
With two gallery spaces to visit – Heartwood Gallery and Outerbark Gallery – make sure you allow extra time for your visit to the Lapunyah Art Gallery.
Hosting up to 20 exhibits each year, the everchanging program features local and touring art exhibitions ensuring there's something new to see each time you visit the Western Downs region.
Expect to find Australian artist heavyweights like Hugh Sawrey, Tom McAulay, and John Morrison hanging on the walls beside local artists.
6. John Mullins Memorial Art Gallery, Miles
With changing exhibitions every six to eight weeks, there's always something new to see at the John Mullins Memorial Art Gallery.
Part of Dogwood Crossing – the gallery displays a mixture of in-house curated works as well as collections from touring exhibitions.
Expect to see the likes of Robert MacPherson, one of Australia's most highly regarded contemporary artists along with works by Miles locals.
From drawings to paintings and sculptures, this gallery shines a light on works of all mediums.
7. Leichhardt Gallery, Wandoan
Once you've completed the outdoor mural tour of Wandoan, head indoors to the Leichhardt Gallery within the Wandoan Library to extend your art experience.
Showcasing works by local artists, travelling exhibitions, and art from the Western Downs Regional Council's collection, there's plenty of art to see in this small town.
8. Hugh Sawrey paintings, Commercial Hotel, Tara
While you'll find Hugh Sawrey's art hung on the walls of the Queensland Art Gallery and National Museum of Australia, you'll also find them in the dining room at the Commercial Hotel in Tara.
Sawrey was a Tara resident in the 1960s, his muse for Australian life and its people, so famously depicted with oil brushstrokes on canvas.
9. Chainsaw art and recycled art, Grevilia Park in Tara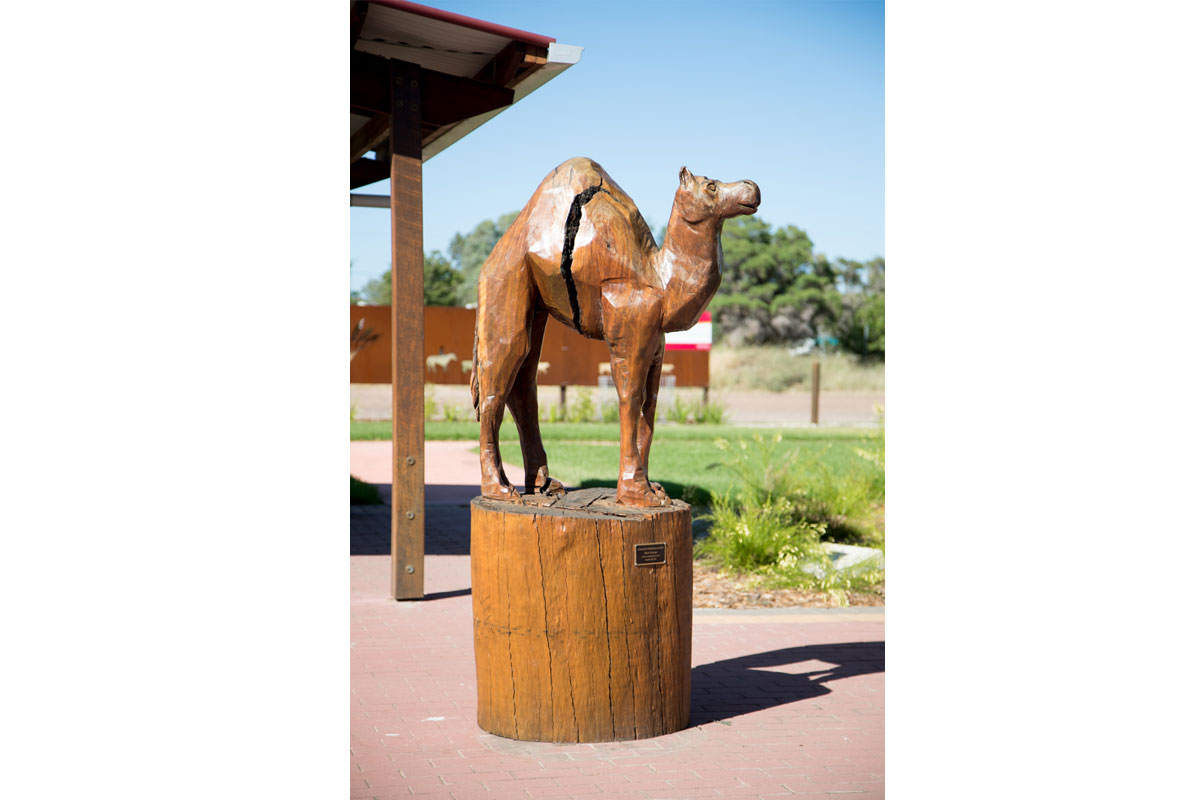 Give a man a chainsaw and a slab of Iron Bark and what do you think you'll get?
If that man is chainsaw artist, Matty G, then you'll likely end up with a camel, emu, or kookaburra sculpture.
A regular at the biannual Tara Festival of Culture and Camel, Matty G is listed as one of the attractions where he carves Australian animals with his chainsaw before a crowd.
Head to Grevillea Park on Day Street and you can see them along with emus and other animals made from recycled materials in this nature garden.
10. Hugh Sawrey Walk & Bush Friendship, Kogan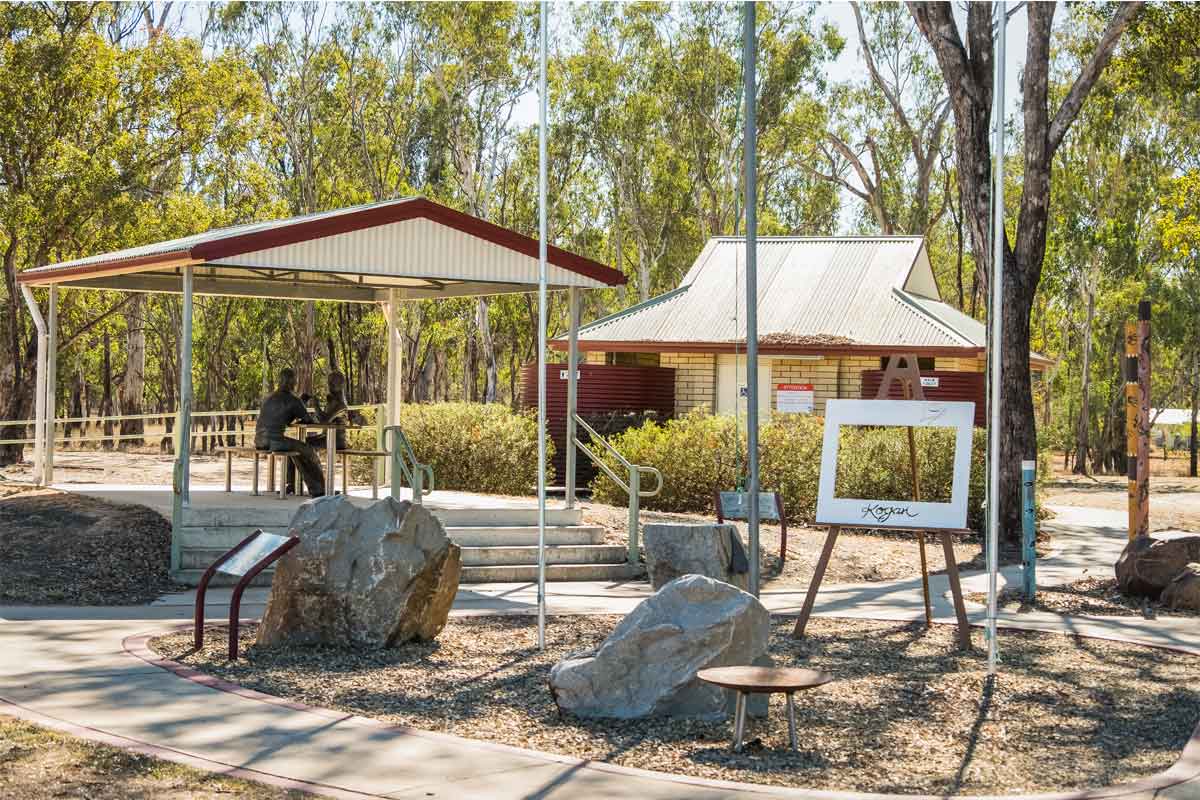 If there's one name you're likely to see or hear throughout the Western Downs art and culture trail, it's Hugh Sawrey.
Beyond seeing his work hang in the local galleries, you can also step it out along the Hugh Sawrey Walk towards a metal sculpture created by local artist Dion Cross in his honour.
Pull up a seat next to two life-sized bronze sculptures of Hugh and his mate, former Kogan publican Nelson Dwyer – as they play a game of cards opposite each other.
Created by local artist Bodo Muche, the sculpture "Bush Friendship" is said to depict how Hugh often spent his days in Kogan.
11. Gallery 107, Dalby
Closed for renovations, limited exhibits can be viewed at 23 Marble St, Dalby.
Updates for Gallery reopening will be posted when information is available.